Mango Cobbler
PREP TIME

COOK TIME

TOTAL TIME

SERVINGS0
Ingredients
For the fruit
4 cups mango, diced (about 4 medium mangos)
2/3 cup white sugar
1/2 stick butter (4 tablespoons)
1/2 cup all purpose flour
1 tbsp cornstarch
1 tsp vanilla extract
1/2 tsp kosher salt
For the cobbler
1 cup all purpose flour
3/4 cup old fashioned rolled oats
1/2 cup sugar
1/2 tsp cardamom
1/2 tsp kosher salt
1 stick butter (cold, cut into small cubes)
PREP TIME

COOK TIME

TOTAL TIME

SERVINGS0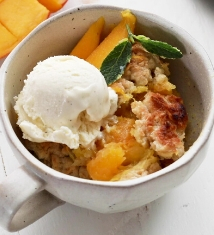 Instructions
Preheat oven to 375°F.

In a 10-inch cast iron skillet, add mango, sugar, butter, flour, cornstarch, vanilla and salt.

Cook on stovetop over medium heat, stirring regularly, until bubbly and thickened.

Meanwhile, in a stand mixer with paddle attachment, add 1 cup flour, oats, sugar, cardamom and salt. Add the butter and mix until mixture holds together in coarse clumps, adding a splash of water, if needed.

When fruit is ready, drop large tablespoons of dough on top of warm fruit. Place into preheated oven and bake for 35-40 minutes, until the edges are bubbling and the top is golden brown.

Serve warm as is or topped with ice cream.