Mango Breakfast Muffins
PREP TIME10 minutes

COOK TIME25 minutes

TOTAL TIME

SERVINGS12
Nutritional analysis per muffin: Calories 268; Protein 6 g; Carbohydrates 35 g; Fat 13 g; 41% Calories from Fat; Cholesterol 32 mg; Sodium 200 mg; Potassium 345 mg; Fiber 4 g
Ingredients
1 - 1/2 cup whole wheat flour
1 cup rolled oats, plus more for garnish
2 tsp baking powder
1/4 cup ground flax seeds
1 tsp kosher salt
2 large eggs
3/4 cup coconut sugar
1/2 cup expeller-pressed coconut oil, melted
1/2 cup low-fat milk
1 tsp vanilla extract
1 large ripe mango (about 1 cup), diced
PREP TIME 10 minutes

COOK TIME25 minutes

TOTAL TIME

SERVINGS12
Nutritional analysis per muffin: Calories 268; Protein 6 g; Carbohydrates 35 g; Fat 13 g; 41% Calories from Fat; Cholesterol 32 mg; Sodium 200 mg; Potassium 345 mg; Fiber 4 g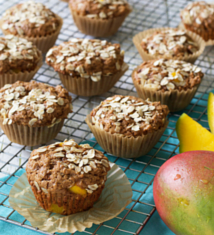 Instructions
Preheat oven to 350°F. Line a muffin tin with paper cups.

In a large bowl, stir together flour, oats, baking powder, flax seeds and salt. In another bowl, combine eggs, coconut sugar, coconut oil, milk and vanilla extract. Add the wet ingredients to the dry ingredients. Stir until combined. With a spatula, fold in the diced mango.

Evenly divide the mixture between the muffin cups, sprinkle with additional oats and place in the oven. Bake for 20 to 25 minutes, until a toothpick inserted into the center of one muffin comes out clean. Remove from oven and cool on a cooling rack before serving.