Mango Ginger Empanada
PREP TIME

COOK TIME15 minutes

TOTAL TIME

SERVINGS0
Source: Chef Kristen Fields, mmmpanadas, Austin, TX
Ingredients
1 package of filo dough, thawed
4 ripe fresh mangos, peeled and diced, approximately 2 cups
1/2 cup cup brown sugar
3 tbsp fresh lime juice
1 cup candied ginger, minced
2 eggs, beaten for egg wash
1/4 cup white sugar
4 tbsp cinnamon
PREP TIME

COOK TIME15 minutes

TOTAL TIME

SERVINGS0
Source: Chef Kristen Fields, mmmpanadas, Austin, TX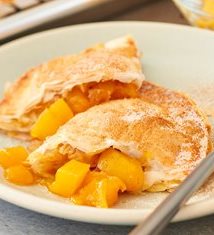 Instructions
Place the mangos and brown sugar in a small saucepan over high heat and bring to a boil.  Simmer for 10 minutes, stirring occasionally. Transfer to a bowl and stir in lime juice and candied ginger. Place in refrigerator to cool completely. 

Mix 1/4 cup white sugar with cinnamon; set aside. Using a 6" cookie cutter, cut out 8 circles. Place 2 tablespoons of filling onto center of once circle of dough.  Brush the edges with egg wash and fold dough to make a half circle.  Seal edges by pressing dough together with tine of fork.  Using tine of fork, pierce the tops of the empanadas to release steam.  

Repeat with all circles.  Egg wash tops of empanadas and sprinkle with cinnamon sugar.

Bake at 350 degrees F 15 to 20 minutes, until golden brown.