Creamy Mango Mousse
PREP TIME

COOK TIME

TOTAL TIME

SERVINGS4
Ingredients
2 cans (14 oz. each) full fat coconut milk, refrigerated
1/4 cup can sugar
2 mangos diced
5 tbsp water, or more
Optional toppings: whipped cream, honey, raw bee pollen, extra mango
PREP TIME

COOK TIME

TOTAL TIME

SERVINGS4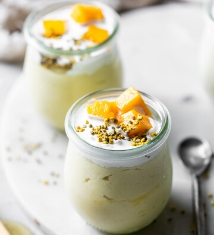 Instructions
Make sure the coconut milk has been chilled in the refrigerator overnight. Scoop ONLY the cream part out of the can of coconut milk and place it in a large mixing bowl. Use an electric mixer to stir the cream for about 30 seconds. Don't worry if there are a few lumps.

Next, add the sugar to the bowl and stir for 10 more seconds.

Add mango and water to a small blender and blend until mango becomes a puree. Pour puree into the bowl with the coconut cream, and again, use your electric mixer to stir for about 30 seconds.

Scoop mixture into jars and refrigerate for at least 2 hours.

Before serving, add optional toppings.