Mango Pie Cookies
PREP TIME20 minutes

COOK TIME25 minutes

TOTAL TIME

SERVINGS12
Nutritional analysis per cookie: Calories 200; Protein 2 g; Carbohydrates 26 g; Fat 10 g; 16% Calories from Fat; Cholesterol 16 mg; Sodium 186 mg; Potassium 52 mg; Fiber 1 g
Ingredients
3/4 cup mango, diced
1 tsp vanilla extract
1/4 cup sugar
1 tsp cornstarch
1/8 tsp salt
2 (9-inch) premade pie curst rounds
1 egg plus 1 tbsp water, beaten
PREP TIME 20 minutes

COOK TIME25 minutes

TOTAL TIME

SERVINGS12
Nutritional analysis per cookie: Calories 200; Protein 2 g; Carbohydrates 26 g; Fat 10 g; 16% Calories from Fat; Cholesterol 16 mg; Sodium 186 mg; Potassium 52 mg; Fiber 1 g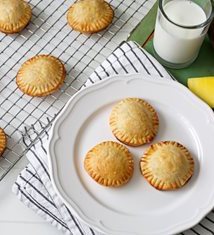 Instructions
Preheat oven to 375°F and line a baking sheet with parchment paper.

In a bowl, stir to combine mango, extract, sugar, cornstarch and salt.

Using a 3-inch round cookie or biscuit cutter, cut 24 rounds out of the pie dough (gather and reroll dough scraps if necessary). Place a spoonful of mango mixture into the center of one of the dough rounds. Brush the egg and water wash on the exterior of the round, then top with another round of dough, sealing by pressing the edges of the dough with your fingers. Crimp the edges together by pressing with the tines of a fork. Brush the tops with egg wash and place the cookies on the prepared baking sheet. Repeat with remaining dough for a total of 12 cookies.

Bake for 25 minutes or until lightly golden. Allow to cool and serve.