Mango Sundae
PREP TIME

COOK TIME

TOTAL TIME

SERVINGS12
Source: Chef Allen Susser, Burger Bar, Palm Beach Gardens, FL
Ingredients
Mango Chow-Chow (Yields 3 cups)
2 firm ripe mangos, diced small
1 large shallot, minced (optional)
1 large jalapeno, seeded, minced
3 tbsp fresh lime juice
3 tbsp roughly chopped cilantro
1½ tsp coarse sea salt
3/4 tsp freshly ground black pepper
Sweet Chili Dust (Yields 1/4 Cup)
3 tbsp turbinado raw can sugar
1 tbsp ground chipotle powder
1/2 tsp coarse sea salt
Other Ingredients
6 cups lime sorbet
12 ginger snap cookies, wafer style
PREP TIME

COOK TIME

TOTAL TIME

SERVINGS12
Source: Chef Allen Susser, Burger Bar, Palm Beach Gardens, FL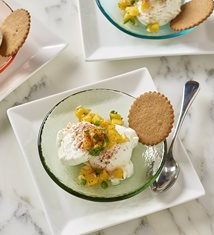 Instructions
To prepare the Chow-Chow
Combine the mango, shallot, jalapeño, lime juice and cilantro. Season to taste with salt and pepper.
To prepare the Sweet Chili Dust
Mix the sugar, chipotle powder and salt.
To serve
Scoop 1/2 cup sorbet into a bowl. Top with 1/4 cup Mango Chow-Chow. Sprinkle with Sweet Chili Dust and serve with a cookie.