Mango Macadamia Caramel Rolls
PREP TIME

COOK TIME20 minutes

TOTAL TIME

SERVINGS12
Mango Macadamia Caramel Rolls
Ingredients
1¼ cup brown sugar
3/4 tsp cinnamon
1/2 tsp ground allspice
1/2 cup softened butter, divided
1 large ripe mango, peeled, pitted and chopped
1/2 cup macadamia nuts, chopped
1 loaf frozen bread dough, thawed
PREP TIME

COOK TIME20 minutes

TOTAL TIME

SERVINGS12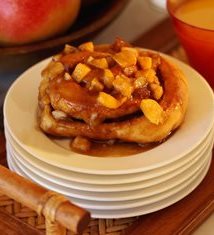 Instructions
tir together brown sugar, cinnamon and allspice in a small bowl.

Place 1 cup mixture in a medium saucepan with 6 tablespoons butter.

Cook over low heat for 5 minutes, stirring frequently.

Stir in mango and cook for a few minutes more until brown sugar is dissolved.

Spread in the bottom of a 13 X 9-inch baking pan and sprinkle with nuts; set aside.

Roll thawed dough into a 12 X 12-inch square on a lightly floured board and spread with remaining 2 tablespoons butter.

Spread remaining brown sugar mixture over butter and press into dough. Roll up tightly and pinch seams to seal.

Cut dough into 1-inch slices.

Place in prepared baking dish; cover and let rise in a warm place until doubled in size, about 1 hour.

Bake in preheated 350°F oven for 20 to 25 minutes.

Let stand for 5 minutes, then invert onto a serving platter.

TIP: Cover uncooked rolls and place in the refrigerator overnight.

Let stand at room temperature for 1 hour before baking.