Mango "No Fry" Hand Pies
PREP TIME

COOK TIME

TOTAL TIME

SERVINGS0
Recipe courtesy of Chef Jeffrey Quasha, Morrison Healthcare
Ingredients
1½ cups fresh mango, peeled and diced
1/2 tsp vanilla
1/8 tsp nutmeg
2 (1 pound) packages frozen puff pastry
2 tbsp whole milk
1/2 tsp cinnamon
1½ tsp honey
1 small egg white
1¼ cups powdered sugar
PREP TIME

COOK TIME

TOTAL TIME

SERVINGS0
Recipe courtesy of Chef Jeffrey Quasha, Morrison Healthcare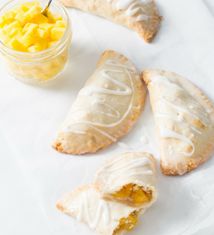 Instructions
To make the filling: Heat a large sauté pan over medium heat. Once the pan is hot, add the diced mango. Sauté the mango for 3 minutes and then deglaze the pan with the vanilla extract. Add the honey and spices and continue to cook for another 2 to 3 minutes. Remove the pan from the heat and allow to completely cool before making the pies.

To assemble and bake: Preheat oven to 400°F. Remove puff pastry from the freezer and allow to come to room temperature while you prepare filling. Once the puff pastry sheets are defrosted cut 6 circles from each crust using a 6-inch biscuit cutter. NOTE: If necessary, roll puff pastry slightly to get 6 6-inch circles from each sheet.

Drop 1 Tbsp of cooled mango pie filling into center of each puff pastry circle. Fold in half and pinch edges completely. Fold pinched edges over and press with the tines of a fork to seal. Poke the top of the hand pie with fork once, to prevent bursting.

Beat egg white in a small bowl until frothy. Brush over the tops of each hand pie. Bake on a parchment paper lined baking sheet (1 inch apart) for about 15 minutes, until lightly browned.

To glaze: While pies are baking, whisk together the powdered sugar and milk until smooth. Remove cooked pies from baking sheet and drop (while warm) into glaze, coating it completely. Return to parchment paper and allow to set (about 5 minutes).