Mango Coconut Cauliflower Rice
PREP TIME

COOK TIME

TOTAL TIME

SERVINGS4
Mango Coconut Cauliflower Rice
Ingredients
6 cups cauliflower, cut into bite-sized pieces
1½ tbsp coconut oil
A pinch of salt
1/4 cup unsweetened coconut flakes
1 large mango, diced
PREP TIME

COOK TIME

TOTAL TIME

SERVINGS4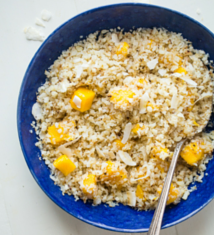 Instructions
Place the cauliflower into a large food processor and process until broken down and "rice-like."

Heat the coconut oil in a large pan over medium-high heat and add the cauliflower, a pinch of salt and coconut flakes. Cook until lightly golden brown, about 3-5 minutes. Cover, reduce the heat to medium and cook until the cauliflower is tender, stirring occasionally, for about 4-5 minutes.

Transfer to a bowl and toss in the diced mango cubes.

Devour!