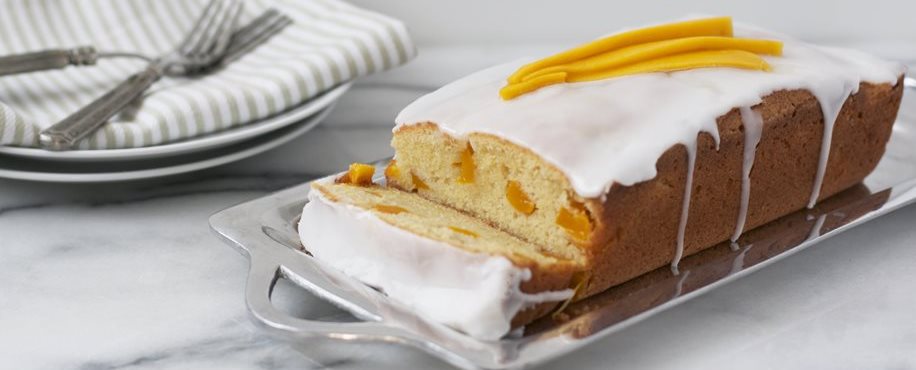 INGREDIENTS
Mango Cake
1 cup softened unsalted butter, plus more for greasing pan
3/4 cup granulated sugar
3 large eggs
1/4 cup sour cream
2 teaspoons vanilla extract
1 1/2 cups all-purpose flour
1 teaspoon baking powder
1/4 teaspoon salt
2 cups small dice ripe mango
Coconut Glaze
1 cup confectioners' sugar
3 tablespoons (stirred) coconut milk
Pinch salt
Dense tender cake, bursting with fresh mango and a tropical coconut glaze, is a deliciously sweet treat that's simple to make and perfect for entertaining.

Preheat the oven to 350°F. Grease a 9" x 5" loaf pan with butter.

Using a stand mixer with a paddle attachment, or a bowl and hand mixer on medium, beat the butter and sugar until creamed and fluffy. Add eggs, one at a time, then follow with sour cream and vanilla; beat until well combined.

In a bowl, combine flour, baking powder, and salt. Add the flour mixture to the butter and mix until just combined. With a spatula, fold in the diced mango. Evenly pour the batter into the prepared pan and bake for 50 to 55 minutes, until golden and a toothpick comes out clean when inserted into the center. Carefully remove the cake from the pan and allow to cool on a cooling rack.

In a bowl, whisk together the confectioners' sugar, coconut milk, and salt until smooth and creamy (add additional coconut milk a teaspoon at a time, if needed, to reach a smooth consistency). Pour evenly over the cake. Once the glaze has set, slice and serve.
Nutritional analysis per 1-inch thick slice: Calories 527; Protein 6 g; Carbohydrates 59 g; Fat 31 g; 53% Calories from Fat; Cholesterol 142 mg; Sodium 212 mg; Potassium 172 mg; Fiber 1 g