Mango BBQ Chicken
PREP TIME20 minutes

COOK TIME50 minutes

TOTAL TIME

SERVINGS10
Nutritional analysis per serving (1/4 cup sauce): Calories 94; Protein 1 g; Carbohydrates 22 g; Fat 1 g; 1% Calories from Fat; Cholesterol 0 mg; Sodium 246 mg; Potassium 229 mg; Fiber 2 g
Nutritional analysis per serving (1 piece chicken with ¼ cup sauce total): Calories 410; Protein 24 g; Carbohydrates 27 g; Fat 23 g; 35% Calories from Fat; Cholesterol 130 mg; Sodium 359 mg; Potassium 562 mg; Fiber 3 g
Ingredients
3 mangos (about 3 pounds), peeled and pitted (2 mangos pureed until smooth, 1 mango diced small)
1/2  cup cup yellow mustard
1/4 cup packed light brown sugar
1/4 cup apple cider vinegar
3 tbsp Worcestershire sauce
1 tsp hot sauce
1 1/2 pounds chicken thighs, bone-in, skin-on
1 1/2 pounds chicken legs, bone-in, skin-on
PREP TIME 20 minutes

COOK TIME50 minutes

TOTAL TIME

SERVINGS10
Nutritional analysis per serving (1/4 cup sauce): Calories 94; Protein 1 g; Carbohydrates 22 g; Fat 1 g; 1% Calories from Fat; Cholesterol 0 mg; Sodium 246 mg; Potassium 229 mg; Fiber 2 g
Nutritional analysis per serving (1 piece chicken with ¼ cup sauce total): Calories 410; Protein 24 g; Carbohydrates 27 g; Fat 23 g; 35% Calories from Fat; Cholesterol 130 mg; Sodium 359 mg; Potassium 562 mg; Fiber 3 g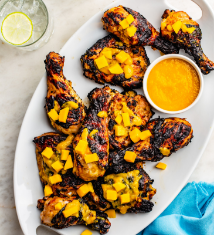 Instructions
In a medium bowl, whisk mango puree, mustard, brown sugar, vinegar, Worcestershire and hot sauce until smooth. Place 1 cup of sauce in a large, heavy-duty zip-top plastic bag and set aside. 

Prick chicken all over with fork and place in bag with sauce, close bag and toss to coat. Refrigerate chicken at least 4 hours or up to overnight. Refrigerate remaining 1 cup sauce. 

Preheat outdoor grill or indoor grill pan over medium-high heat. Clean and oil grill grates. Remove chicken from bag and shake off excess sauce.

Lower heat to medium and grill chicken, skin side down, covered, until chicken begins to brown, about 30 minutes, flipping chicken halfway through cooking.

Open grill, increase heat to medium-high, flip chicken again, basting with ½ cup reserved sauce, and flipping about every 3 minutes, until chicken is cooked through (175 degrees for legs and thighs), and well glazed, about 20 minutes more. 

Remove chicken from grill and serve with remaining ½ cup sauce and diced mango.