Lamb, Lime and Mango Salad
PREP TIME

COOK TIME

TOTAL TIME

SERVINGS4
Lamb, Lime and Mango Salad
Ingredients
Lamb
3 cloves garlic, minced
10 sprigs cilantro, stemmed (reserve stems)
1 teaspoon kosher salt
1/2 teaspoon freshly ground black pepper
3 tablespoons peanut oil, divided
12 ounces lamb steak, trimmed of fat
Salad
1 head frissee lettuce, inner leaves washed and dried
1 small ripe mango, peeled, pitted and diced
1 small avocado, peeled and diced
4 large green onions, including green parts, diced
Dressing
2 tablespoons Thai fish sauce
3 tablespoons freshly squeezed lime juice
1 tablespoon Soy sauce
2 teaspoons minced, fresh red Thai or jalapeno pepper
2 teaspoons packed brown sugar
PREP TIME

COOK TIME

TOTAL TIME

SERVINGS4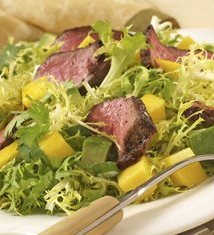 Instructions
To Prepare the Lamb
In a food processor, combine the garlic, cilantro stems, salt, pepper, and 2 tablespoons oil.

Spread the paste on both sides of the lamb and marinate for ½ hour. 

Warm remaining oil in a large, heavy skillet, cooking the steak on each side 3 to 4 minutes for medium rare.

Remove from pan and let cool. 
To Prepare the Salad
Cut the lamb into strips.

Divide the lettuce leaves among 4 plates and arrange the mango, avocado, green onions, and strips of lamb on top.
To Make the Dressing
In a small bowl, combine all the ingredients and stir until the sugar is dissolved.
To Serve
Drizzle the salad with the dressing and scatter the reserved cilantro leaves over the top.