Green Mango and Grilled Beef Salad
PREP TIME30 minutes

COOK TIME30 minutes

TOTAL TIME

SERVINGS4
Source: Chef Ben Randolph, The Broadway Hotel, Columbia, MO
Green Mango and Grilled Beef Salad
Ingredients
Dressing
2 tbsp sugar
2 tbsp water, hot
1/2 tbsp sriracha sauce
2 tbsp fish sauce
2 tbsp lime juice
Beef
1/2 cup vegetable oil
2 stalks lemongrass, trimmed, tender inner parts only, minced
1 tbsp fish sauce
1 tbsp soy sauce
1 tbsp sugar
1½ pounds beef top loin steak
Salad
2 green (firm ripe) mangos, peeled, pitted and thinly sliced
1/2 small red onion, thinly sliced
12 sprigs cilantro, chopped
1/4 cup Asian basil leaves, torn into thirds
3 tbsp unsalted, roasted peanuts, crushed
PREP TIME 30 minutes

COOK TIME30 minutes

TOTAL TIME

SERVINGS4
Source: Chef Ben Randolph, The Broadway Hotel, Columbia, MO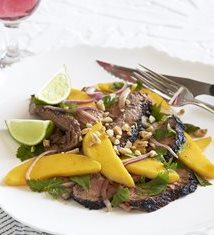 Instructions
To make the dressing
Completely dissolve sugar in water; stir in fish sauce, lime juice and sriracha.
To prepare the beef
Combine oil, lemongrass, fish sauce, soy sauce and sugar; stir until sugar dissolves. Add beef and coat thoroughly with marinade. Marinate at room temperature for 20 minutes. Grill beef over medium-hot heat until desired doneness is achieved; allow to rest before slicing, against the grain, into thin strips.
To assemble and serve
Transfer grilled meat to a large bowl. Add mango, red onion and dressing; toss gently. Add cilantro and basil; toss gently again before plating. Garnish with peanuts.