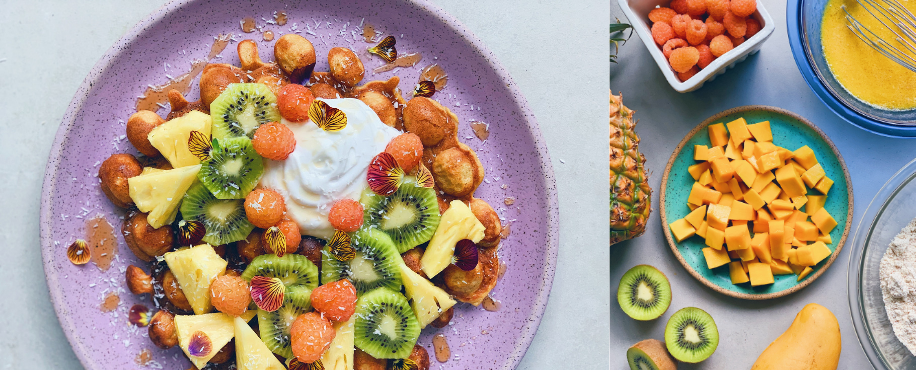 INGREDIENTS
2 cups almond flour or almond meal
1/2 cup tapioca flour
¼ cup coconut sugar
1 teaspoon baking soda
1 teaspoon baking powder
⅛ teaspoon salt
4 large eggs
3 tablespoons coconut oil, melted (or any other cooking oil)
1 ⅓ cup nut milk or water
2 teaspoon vanilla extract
1 cup of ripe mango, cut into half-inch cubes
In a large mixing bowl, mix together almond flour, tapioca flour, coconut sugar, baking soda, baking powder and salt.
In a separate small mixing bowl, whisk together eggs, melted coconut oil, nut milk and vanilla.
Add the wet ingredients to the dry ingredients and mix until thoroughly combined. Using a rubber spatula, gently stir in the cubed mango. To cut a mango into cubes, check out this tutorial.
Lightly grease waffle iron with coconut oil or any other cooking oil, then preheat over medium heat.
Once waffle iron is hot, pour about a cup of waffle batter into the center of the waffle iron. Spreading slightly with ladle or spoon. Slowly close the top to the waffle iron. The batter should spread to the edges but not overflow. If it overflows, adjust the amount of batter you add on the next waffle.
Cook the waffle on one side for about 3-4 minutes then flip waffle iron over to cook the other side. At this point, you can slowly peel open the waffle iron to see if the waffle is golden on one side. Continue to cook the waffle for an additional 3-4 minutes, or until golden on both sides.
Remove waffle using tongs and a spatula. Place on a preheated baking sheet in a warmed oven (170°) while you cook the rest of the waffles.
To serve, top with desired toppings (fruit, yogurt, maple syrup, shredded coconut, edible flowers, etc.)
Sliced fruit, coconut yogurt, edible flower petals, shredded coconut, maple syrup