Fresh Mango Oatmeal Congee
PREP TIME30 minutes

COOK TIME45 minutes

TOTAL TIME

SERVINGS12
Fresh Mango Oatmeal Congee
Ingredients
Fresh Mango Oatmeal Congee
9 cups cooked oatmeal porridge (recipe below)
3 cups fresh mango
12 poached eggs
1/4 cup pork sung
3/4 cup green onion
4 Fresno chili
3/4 cup Ginger Turmeric Granola (recipe below)
Oatmeal Porridge
3 cups old fashioned rolled oats
10 cups low-sodium vegetable broth
2 tbs reduced-sodium soy sauce
2 cups white mushrooms
2 tbs lime juice
Ginger Turmeric Granola
2 1/2 cups finely shredded unsweetened coconut
1 1/4 cups raw pumpkin seeds
1 cup raw sunflower seeds
1/4 cup coconut oil
1/2 tbs pure vanilla extract
1-2 tbs honey
sea salt to taste
1 tbs ground cinnamon
1/2 tsp ground ginger
1/4 tsp + pinch ground turmeric
PREP TIME 30 minutes

COOK TIME45 minutes

TOTAL TIME

SERVINGS12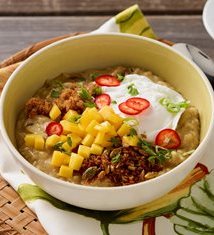 Instructions
Oatmeal Porridge
Add the oats, broth, and soy sauce to a saucepan over high heat and bring to a boil, and then reduce to a simmer until the oatmeal is tender, about 10 minutes.

Coat a small nonstick sauté pan with cooking spray. Add the mushrooms and sauté until tender and all liquid is evaporated, about 4 minutes.

Add the lime juice and sauté until the liquid has evaporated. Stir the mushrooms into the oatmeal porridge.
Ginger Turmeric Granola
Preheat oven to 325°F.

Pour coconut, pumpkin seeds and sunflower seeds on a large baking sheet.

In a bowl, mix together the coconut oil, vanilla, raw honey, sea salt and spices.

Pour oil and spice mixture over the coconut and seeds. Stir well to coat.

Place in preheated oven for 15 minutes.

Remove and stir, and place in oven for another 15 minutes

Stir again and if need be, place in oven for another 5-10 minutes. Keep an eye on it at this point to make sure it doesn't get too dark!

Cool completely and store in airtight container.
Fresh Mango Oatmeal Congee (assembly, per serving)
Spoon ¾ cup hot Oatmeal Porridge into a bowl.

Top with 1 poached egg, 3 tablespoons diced mango, 1 teaspoon pork sung, ½ teaspoon green onion, 3 slices Fresno chili, and 1 Tablespoon Ginger Turmeric Granola.