French Toast with Mango Chutney & Coconut Cream
PREP TIME

COOK TIME

TOTAL TIME

SERVINGS0
French Toast with Mango Chutney & Coconut Cream
Ingredients
Mango Chutney 
1 tbsp avocado oil
2 cloves minced garlic
3 mangos (cut into cubes)
1/3 cup coconut sugar
1/2 tsp cumin
1/2 tsp cinnamon
Maple syrup (optional)
1/2 white onion (diced)
1 tbsp grated ginger
1/2 cup white vinegar
1 tsp mustard seeds
1/2 tsp red pepper flakes
Coconut cream (optional)
French Toast
2 eggs
1/2 tsp cinnamon
4 slices thick cut sourdough bread
1/3 cup almond milk
1 tbsp coconut oil
PREP TIME

COOK TIME

TOTAL TIME

SERVINGS0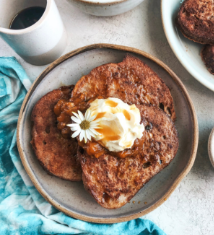 Instructions
Mango Chutney  
Heat avocado oil over medium heat, then add garlic, onion, and ginger to the pan. Sauté until aromatic (about 5 minutes). 

Transfer onions, ginger and garlic to a large pot. Add remaining ingredients (white vinegar, coconut sugar, mustard seeds, cumin, red pepper flakes and cinnamon) and stir until combined. 

Simmer over low heat, stirring occasionally for 45 minutes. Remove from heat, allow chutney to cool, and then transfer to a mason jar. Enjoy warm or cold.
French Toast  
In a large saucepan heat coconut oil over medium heat. 

Whisk eggs, almond milk, and cinnamon in a large shallow bowl. Dunk each slice of bread in egg mixture until evenly coated.

Transfer bread to the pan and cook until golden (about 4 minutes on each side).

Transfer French Toast to a plate and top with mango chutney, coconut cream and maple syrup. Enjoy!