Crispy Fried Oyster Appetizer
PREP TIME30 minutes

COOK TIME15 minutes

TOTAL TIME

SERVINGS1
Source: Chef Kevin Gin, Bridges Restaurant & Bar, Danville, CA
Crispy Fried Oyster Appetizer
Ingredients
3 Pacific oysters, medium
¼ cup flour
1 egg, beaten
¼ cup panko breadcrumbs
Vegetable oil for frying
¼ ripe fresh mango, thinly sliced
1/4 oz Napa cabbage, chiffonade
1 tbsp Creamy Cilantro Dressing
1 tbsp Kimchi Vinaigrette
¼ ripe, fresh California avocado, peeled, seeded, diced small
Micro greens for garnish
CREAMY CILANTRO DRESSING
2 oz sour cream
1 tsp cider vinegar
1 tsp half and half
1 tbsp chopped cilantro
Salt and pepper to taste
KIMCHI VINAIGRETTE
1 tbsp kimchi
1 tbsp kimchi seasoning
2 tsp Korean chili paste
½ tsp minced garlic
3 tsp rice vinegar
1½ tsp canola oil
1½ tsp sesame oil
¾ tsp fish sauce
Sugar to taste
1 tsp minced cilantro
1 green onion, finely chopped
PREP TIME 30 minutes

COOK TIME15 minutes

TOTAL TIME

SERVINGS1
Source: Chef Kevin Gin, Bridges Restaurant & Bar, Danville, CA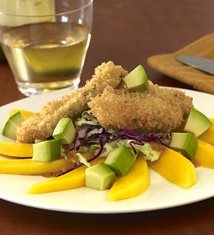 Instructions
To make oysters:
Heat oil in a deep fryer or a deep, heavy pot to 350 degrees F.

After shucking oysters, drain in a colander. Dip each oyster in flour, shaking off excess, then dip into egg, then panko.

Gently place the oysters in the hot oil and fry 1 to 3 minutes, until golden. Remove oysters and let drain on a paper towel lined tray.
To make Creamy Cilantro Dressing:
Mix all ingredients together. Refrigerate until service. Makes ¼ cup.
To make Kimchi Vinaigrette:
Place all ingredients except green onion and cilantro in a blender. Blend until smooth. Add sugar as needed. Mix in cilantro and green onion. Makes ½ cup.
To plate:
Arrange mango slices in a star pattern from the middle of the plate fanning out.

Mix both cabbages together in a bowl with 1 Tbsp Creamy Cilantro Dressing, salt and pepper. Place this mixture in the center of the mango star.

Place oysters around the cabbage forming a point in the middle.

Drizzle 1 Tbsp Kimchi Vinaigrette around the oysters and on the mango.

Scatter diced avocado around the plate and top oysters with micro greens. Serve immediately.