Mango Fruit Roll-Ups
PREP TIME10 minutes

COOK TIME4 minutes

TOTAL TIME

SERVINGS16
Nutritional analysis per serving: Calories 21; Protein 0 g; Carbohydrates 5 g; Fat 0 g; 0% Calories from Fat; Cholesterol 0 mg; Sodium 0 mg; Potassium 53 mg; Fiber 1 g
Ingredients
3 cups fresh mango, cubed (about 3 large mangos)
1 tbsp lemon juice
Honey as needed
Special Equipment
parchment paper
cooking twine
PREP TIME 10 minutes

COOK TIME4 minutes

TOTAL TIME

SERVINGS16
Nutritional analysis per serving: Calories 21; Protein 0 g; Carbohydrates 5 g; Fat 0 g; 0% Calories from Fat; Cholesterol 0 mg; Sodium 0 mg; Potassium 53 mg; Fiber 1 g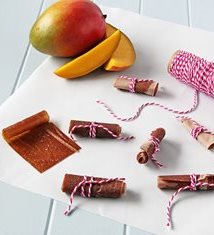 Instructions
Preheat the oven to 170°F. Line an 11-by-17-inch rimmed baking sheet with parchment paper.

Puree the mango and lemon juice in a blender until very smooth.

Taste and, if needed, add honey 1 tablespoon at a time to reach desired sweetness.

Pour puree onto the parchment paper and smooth it out evenly into a thin layer with a spatula.

Bake for 4 to 6 hours, until barely tacky and no longer wet.

The cooking time will depend on your oven, the humidity of the day and ripeness of the mangos.

Remove from the oven and allow to cool. Using kitchen scissors, cut the fruit leather crosswise into 1-inch strips, roll the strips up and secure with cooking twine.

Store in an airtight container for up to a week.

To eat, simply remove parchment paper from the fruit leather and eat.