Mango Holiday Dip
PREP TIME10 minutes

COOK TIME5 minutes

TOTAL TIME

SERVINGS8
Ingredients
1 cup mango puree
1 cup roasted red bell pepper puree
3 ounces goat cheese, crumbled
Sea salt and freshly ground pepper to taste
1/4 tsp cumin
1/4 tsp cayenne pepper
1 tbsp fresh lime juice
1/4 cup freshly chopped cilantro
1 mango, peeled, pitted and diced
Bread or arepas for dipping
PREP TIME 10 minutes

COOK TIME5 minutes

TOTAL TIME

SERVINGS8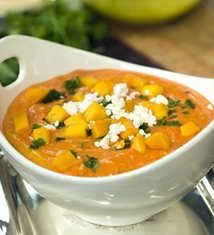 Instructions
Combine mango and red pepper puree in a medium size saucepan over medium-low heat and heat until warm for 3 to 4 minutes.

Slowly stir in goat cheese until incorporated into puree. 

Season with salt and pepper, cumin, cayenne pepper and fresh lime juice.

Pour into serving bowl. 

Stir in cilantro and top with diced mango. 

Spread over toasted bread or serve with arepas for dipping.

*Can use store bought roasted red bell peppers in a jar or broil one or two whole red bell peppers under medium heat, turning frequently, as necessary, until the entire pepper skin has turned black and blistery, peel, remove seeds and membranes and puree.