Mango and Ham Popovers
PREP TIME15 minutes

COOK TIME30 minutes

TOTAL TIME

SERVINGS12
Ingredients
2 ripe mangos, peeled, pitted and cut into 1/4-inch cubes
1 1/2 cup 1/4-inch cubes ham
3 tbsp sliced green onions
1/2 tsp cinnamon
1 tbsp butter, melted, plus extra soft butter for coating muffin tops
3/4 cup milk
1/4 cup water
3 eggs
3/4 cup plus 2 tablespoons flour
1/4 tsp salt (slightly heaping)
PREP TIME 15 minutes

COOK TIME30 minutes

TOTAL TIME

SERVINGS12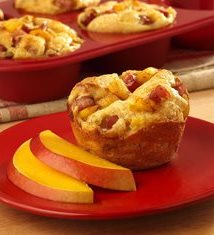 Instructions
Preheat oven to 375°F.

Stir together mango, ham, green onions and cinnamon in a medium bowl.

Coat 12 muffin cups liberally with softened butter and fill with equal amounts of mango mixture.

Whisk together milk, water and eggs in a medium bowl. Slowly add butter, whisking constantly. Add flour and salt and whisk until smooth.

Ladle equal amounts into muffin cups and bake for 25 to 30 minutes or until golden brown. Makes 12 popovers.

May substitute leftover turkey for ham.