Bavette Steak Yucca Mango Chimichurri
PREP TIME30 minutes

COOK TIME40 minutes

TOTAL TIME

SERVINGS4
Recipe courtesy of Chef Chris Miracolo, Sun Surf Sand (Hilton), Ft. Lauderdale, FL
Bavette Steak Yucca Mango Chimichurri
Ingredients
1 pound yucca, peeled and cut into 16 4x1-inch sticks
1 pound bavette steak, cut into four portions
Mango Chimichurri
1 cup ripe mango, ¼-inch dice
¼ cup red bell pepper, ¼-inch dice
2 tablespoons green onion, diced
1 tablespoon fresh lime juice
1 teaspoon ginger juice
½ teaspoon kosher salt
2 tablespoons mango puree (squeeze excess flesh off of seed)
Chipotle Vinaigrette
½ cup fresh cilantro, chopped
1 tablespoon dried oregano
3 ounces peeled shallot, minced
1 ounce garlic, minced
4 each Fresno peppers, blistered and diced
1 teaspoon ground black pepper
1 tablespoon chipotle in adobo, seeded and minced
2-½ teaspoons kosher salt
¾ cup sherry vinegar
¾ cup canola oil
¼ cup extra virgin olive oil
Coffee Rub
2 tablespoons ground coffee
1 teaspoon chili powder
1 teaspoon ground cumin
1 teaspoon ground coriander
PREP TIME 30 minutes

COOK TIME40 minutes

TOTAL TIME

SERVINGS4
Recipe courtesy of Chef Chris Miracolo, Sun Surf Sand (Hilton), Ft. Lauderdale, FL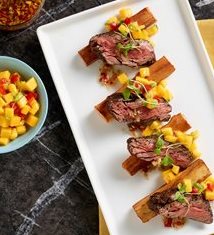 Instructions
Mango Chimichurri
Combine all ingredients; cover and refrigerate until service.
Chipotle Vinaigrette
Combine all ingredients except oil; whisk in oils until emulsified. Cover and refrigerate until service.
Coffe Rub
Combine all ingredients. Cover and set aside.
Yucca
Place yucca sticks in a pot of simmering salted water and cook until soft, approximately 25 minutes. Remove and place in strainer to dry. Just before service, heat oil in fryer to 350°F. and fry until golden brown. Drain and keep warm.
Steak
Rub each steak with Coffee Rub and season to taste with salt. Brush with oil and grilled to desired temperature. Allow steaks to rest a few minutes, and cut each steak into four slices.To assemble dish, per serving: Place four fried yucca sticks on plate and top each with one slice of steak. Distribute ¼ cup Mango Chimichurri on each serving and drizzle with Vinaigrette.