Celebrate World Vegetarian Day with Mangos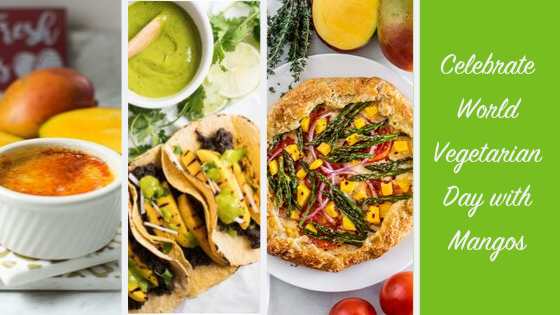 October 1st is World Vegetarian Day, a day where we can celebrate and raise awareness for the benefits of eating more fruits and vegetables, which contain many beneficial nutrients for a healthy diet. Mangos fit perfectly in a plant forward diet and they are high in vitamin C and contain 8% of the DV of Vitamin A and  7% of the DV of fiber. Here are some of our favorite vegetarian recipes for you to try!
Tropical Mango Bowls with Citrus Drizzle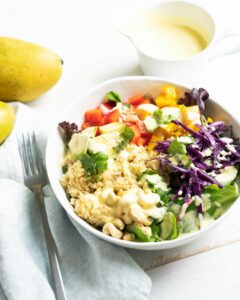 This tropical mango bowl with citrus drizzle combines quinoa, mixed greens, cashews, and mangos for a punch of flavor that we're sure you'll love!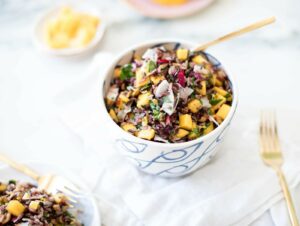 Dinner is served with this mango harvest wild rice recipe. This dish is simple to make and perfect for meal prepping because the leftovers can be stored for up to one week!
Mango Roasted Butternut Squash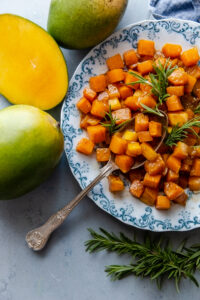 If you're a fan of squash then you'll love this mango roasted butternut squash recipe which is super easy to prepare and perfect for this fall season!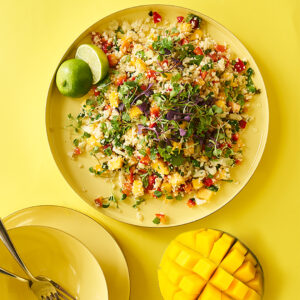 This refreshing mango cauliflower rice recipe is the perfect dinner after a long day. This dish is super easy to make and nutritious, plus one 3/4 cup serving of mango provides 7% of the daily value for fiber. We're sure you won't regret trying this one out.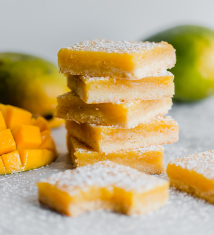 Who knew mangos and lemons were such a great a combo! These mango lemon bars are simple to make and are the perfect midnight sweet treat.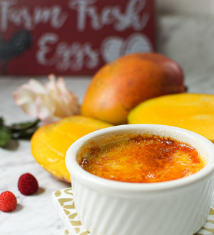 This dairy-free mango crème brûlée is the perfect dessert if you're craving something sweet. The only ingredients you need are mango, eggs, coconut milk, vanilla bean and sugar!
Grain Free Mango Puffy Waffles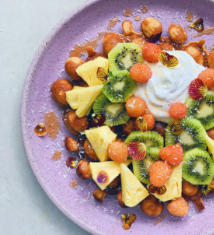 Who doesn't love waffles in the morning? This grain-free mango puffy waffle recipe is a nice twist to traditional waffles with the added flavor and nutrients of mango!
Spring Galette with Asparagus Gruyere and Mango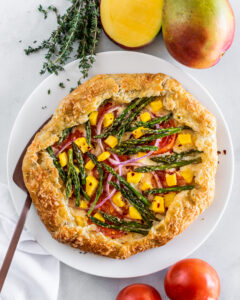 If you're feeling a little on the fancier side, try this Galette with asparagus, gruyere, and mango to add a different kick of flavor to your day. It's perfect for a midday lunch or as a vegetarian potluck dish!
Veggie Burrito Bowls with Grilled Mango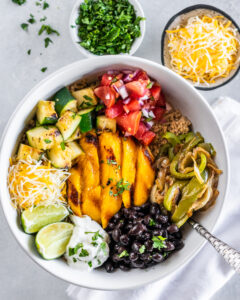 This veggie burrito bowl with grilled mango is packed with flavor. Plus, one 3/4 cup serving of grilled mango provides 50% of the daily value of vitamin C you need.
Grilled Mango Tacos with Dream Sauce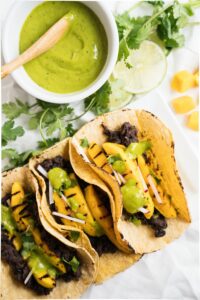 These grilled mango tacos are the perfect vegetarian substitute for traditional tacos.  The mixed flavors of the grilled mangos, the dream sauce and the refried beans are sure to leave you wanting more.