Slow Cooker Beef Short Ribs with Ginger-Mango Barbeque Sauce
PREP TIME

COOK TIME5 minutes

TOTAL TIME

SERVINGS4
Slow Cooker Beef Short Ribs with Ginger-Mango Barbeque Sauce
Ingredients
2 lbs well-trimmed boneless beef short ribs, cut into 2x2x4-inch pieces
1½ cups fresh mango, peeled, pitted and diced
1 medium onion, chopped
1 tbsp minced fresh ginger
1 cup hickory-flavored barbecue sauce
PREP TIME

COOK TIME5 minutes

TOTAL TIME

SERVINGS4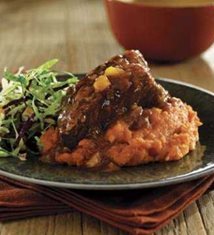 Instructions
Place beef short ribs, mango, onion and ginger in 3-1/2 to 5-1/2-quart slow cooker. 

Add barbecue sauce. Cover and cook on LOW 7-1/2 to 8-1/2 hours, or on HIGH 5 to 6 hours, or until beef is fork-tender. (No stirring is necessary during cooking.)

Remove short ribs, season with salt and pepper, as desired. Skim fat from cooking liquid; serve over short ribs. 
Serving Tips:
Three pounds bone-in short ribs may be substituted. Other flavors of barbecue sauce may be substituted for hickory-flavor. Short ribs can be served over mashed sweet potatoes, if desired.