Quick-Pickled Mangos with Tender Greens and Goat Cheese
PREP TIME15 minutes

COOK TIME5 minutes

TOTAL TIME

SERVINGS4
Recipe from the Tasting Table Test Kitchen
Quick-Pickled Mangos with Tender Greens and Goat Cheese
Ingredients
Pickled Mangos
2 Large Ripe Mangos
2 Sprigs Fresh Tarragon
2 Sprigs Fresh Thyme
1/2 Tsp Freshly Ground Black Pepper
¾ Cup Rice Vinegar
⅓ Cup Water
1 Tbsp Granulated Sugar
1 Tbsp Kosher Salt
Salad
¼ Cup Extra-Virgin Olive Oil
Flaky Sea Salt
Freshly Ground Black Pepper
8 Cups Salad Greens (Such as Arugula, Tatsoi, or a Mesclun Mix)
1 Small Fennel Bulb
4 oz Fresh Goat's-Milk Cheese (Chèvre)
PREP TIME 15 minutes

COOK TIME5 minutes

TOTAL TIME

SERVINGS4
Recipe from the Tasting Table Test Kitchen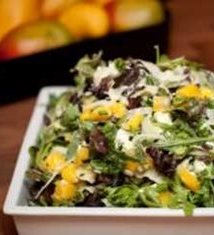 Instructions
Pickled Mangos:
In a large heat-safe bowl, place the mangos, tarragon and thyme sprigs, and black pepper; set aside.

In a small saucepan set over medium-high heat, bring to a simmer the rice vinegar, water, sugar and salt. 

 Pour the hot vinegar mixture over the mangos and cool to room temperature, about 30 minutes.

Cover the bowl with plastic wrap and refrigerate overnight (the mangos keep up to 1½ weeks in the refrigerator).
Salad:
In a small bowl, whisk together 1/3 cup of the mango pickling liquid, the olive oil, and salt and pepper to taste. 

Divide the salad greens and fennel among 4 plates.

Sprinkle each plate with 1/4 cup pickled mangos, then drizzle the vinaigrette over the salad. 

Top with the crumbled cheese and serve.