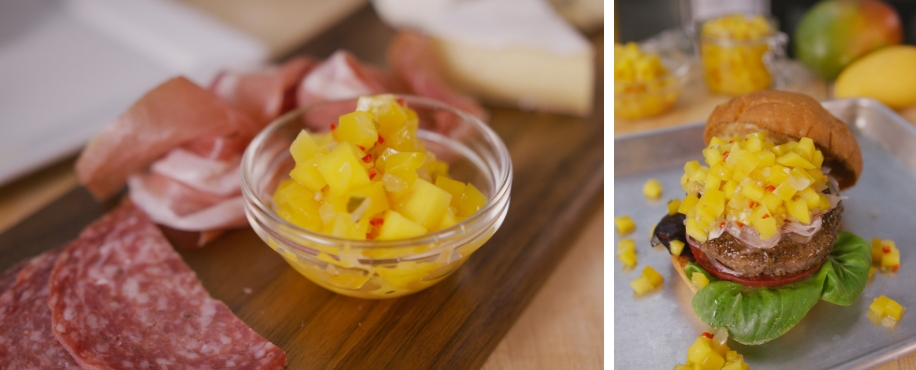 INGREDIENTS
1 cup Onion, brunoise
1 Tbsp. Mustard seed, yellow
2 tsp. Salt
¾ cup Apple cider vinegar
1 pc. Ginger, 1" piece smashed
4 ea. Garlic cloves, smashed
1 cup Sugar
½ cup Water
4 ea. Unripe (green) mango,* peeled, small diced
1 ea. Red Fresno chili, seeded, ⅛" diced
1 ea. Lime, rind only, ¼" diced
*Recommended mango ripeness stage 2 to 3
In a large saucepan, combine the onion, mustard seed, salt, vinegar, ginger, garlic, sugar and the water. Mix to combine and bring to a simmer for 5 minutes.
Remove the ginger and garlic from the simmering mixture
Add the mangos, Fresno chilies, and lime rinds to the saucepan and simmer for another 10 minutes.
Remove from the heat and refrigerate overnight.
Taste and adjust the seasoning, as necessary. Cover and store in the refrigerator for up to 2 weeks.
Note: Use this relish as a spread on a charcuterie board, as a sauce for hamburgers, or roast meats, on grilled fish or shrimp, and as a garnish for Hors d'Oeuvres, such as deviled eggs.
Created by The Culinary Institute of America as an industry service to the National Mango Board.
Yield: 8 Portions