Pan de Muerto
PREP TIME

COOK TIME

TOTAL TIME

SERVINGS0
Ingredients
3 each Eggs
2 ounce Margarine
2 ounce Butter
1 tsp Salt
1/4 cup Sugar
1 tbsp Yeast
2 fl oz Mango Puree
3 cups Flour
1/4 cup Dice Mango Pieces
1/4 CUP Flour (for the board to roll)
Pan Spray (as needed)
1 fl oz Water
PREP TIME

COOK TIME

TOTAL TIME

SERVINGS0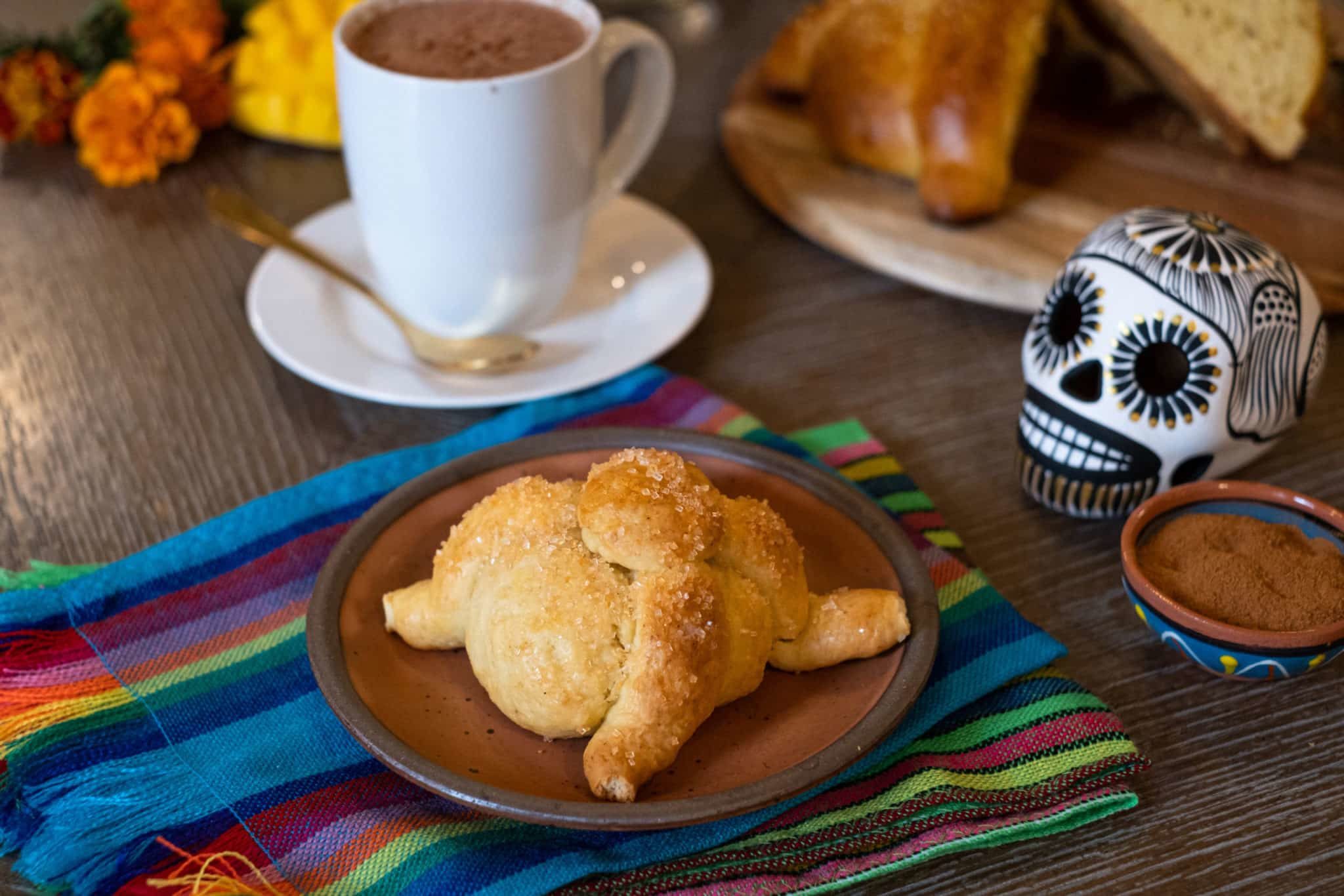 Instructions
In a mixing bowl with hook attachment place two eggs, margarine, sugar, and salt into the bowl and begin to mix for 3 minutes.

In a small bowl combine the yeast and mango puree. (Set Aside)

Once mixture is combined add in the flour while the hook is spinning small amounts at a time.

Once all the flour is added, add in the yeast and puree mixture. Once all the ingredients are combined during the last minute of the mixing place the mango pieces into the mixer to combine.

Remove the mixture from the mixing bowl and place on a floured surface. Roll the dough mixture until smooth and place in toa covered bowl for 1 hour to proof.

Once proofed remove the dough from the bowl and place on lightly floured surface. Cut the entire mixture in half creating two equal parts. Taking those halves cut off ¼ of those halves and set aside. They will be used for the bones.

With the large ball fold and roll into a tight ball and place on a greased baking pan. Slightly press the center of the ball.

With the smaller pieces of dough, roll them tightly into small thin logs. This will create the bones. Once the bones are formed place crossing over the center of the ball and place small round ball of dough in the center.

Use 1 egg and water to make egg wash, brush the bread with the egg wash.

Cover the bread with plastic and let proof for 30 minutes up to 1 hour.

Set oven to 350 Degrees.

Once the dough is proofed place in the heated oven and cook for 15-20 minutes until the bread is fully cooked and golden brown. Remove from oven and let cool. (Oven cook time will vary on each oven and size of dough).

Once cooked and cooled brush with butter and dust with sugar, or garnishes.