Mango Turmeric Vanilla Mocktail
PREP TIME

COOK TIME

TOTAL TIME

SERVINGS0
Mango Turmeric Vanilla Mocktail
Ingredients
Mango Juice
3 cups fresh, ripe mango, chopped or frozen mango chunks
1½ cups filtered water
1-2" piece of fresh turmeric, peeled and chopped
Juice from 1 lime
Honey Simple Syrup
1 cup water
1 cup honey
1 vanilla bean, seeds/insides scraped out
Garnish
Kaffir lime leaves
Sliced lime
Finger limes (optional)
2 liters sparkling water
PREP TIME

COOK TIME

TOTAL TIME

SERVINGS0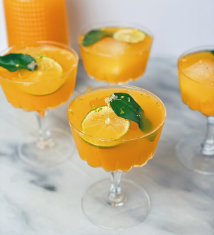 Instructions
Mango juice
If using frozen mango, allow it to reach room temperature. Place all ingredients in a high-speed blender. Blend until very smooth. Strain through a fine mesh sieve to remove pulp.
Honey simple syrup (make ahead if possible)
Place water, honey, and vanilla in a small saucepan over medium-low heat and stir to combine. Bring to a low simmer. Reduce heat to low and continue to simmer until honey is completely dissolved, about 10 minutes. Allow to cool fully and place in an air-tight container in the fridge. Will keep for up to 1 month.
To garnish
For each drink, add 3 ounces of the mango juice mixture and 1 tablespoon simple syrup to a 6-8-ounce cocktail glass over ice. Swirl to mix. Finish with sparkling water to fill the glass or to taste.

Garnish with a slice of lime, kaffir lime leaf and citrus pearls from finger limes, if using