Mango Sorbet with Spiralized Mango Skin
PREP TIME

COOK TIME

TOTAL TIME

SERVINGS0
Recipe by Chef Mikel Anthony, Chef's Roll, for National Mango Board
Mango Sorbet with Spiralized Mango Skin
Ingredients
Mango Sorbet
1 cup Simple Syrup (1 part water, 1 part sugar dissolved)
1 pinch Salt
3-4 Fully Ripe Mangos
1 tsp Fresh Lime Juice
Graham Cracker Crumbles
4-5  Graham Crackers
½ Stick of Butter
Cheesecake Dots
1 Cream Cheese block, softened
½ cup Heavy Cream
Mango Spiral
1 in Straight Cannoli Pastry Tube
PREP TIME

COOK TIME

TOTAL TIME

SERVINGS0
Recipe by Chef Mikel Anthony, Chef's Roll, for National Mango Board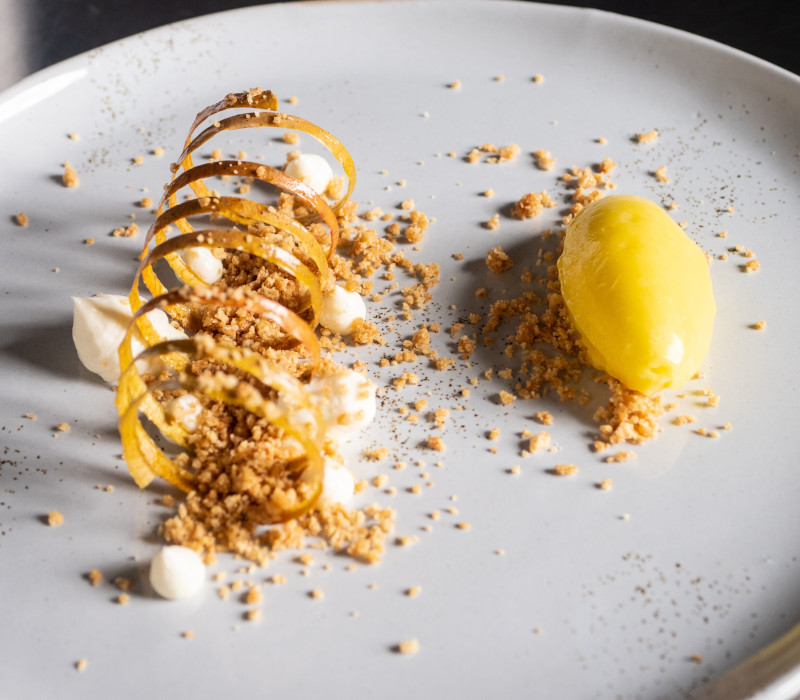 Instructions
Mango Sorbet
Blend the ingredients together. Push through a sieve in to an ice cream maker and process until frozen. Place in freezer for 1-2 hours. Makes about 1 qt.
Graham Cracker Crumbles
Mix in food processor until mixture holds together. Crumble on a baking sheet; bake at 325 degrees F 8-10 minutes.
Cheesecake Dots
Whip until fluffy.
Mango Spiral
Wrap spiralized mango around pastry tube. Bake at 325 degrees F until crisp.
To Plate
Form the sorbet into an egg-like (quenelle) shape and place off center on a chilled plate. Scatter Graham Cracker Crumbles on plate, top with Cheesecake Dots and garnish with spiralized skin and more Crumbles.