Mango Mimosa
PREP TIME10 minutes

COOK TIME

TOTAL TIME

SERVINGS4
Ingredients
1 small mango, chopped, including excess juice
1/2-1 cup water, for blending
small handful of mint sprigs
1 bottle chilled champagne
PREP TIME 10 minutes

COOK TIME

TOTAL TIME

SERVINGS4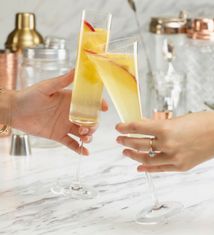 Instructions
Place chopped mango, mint and water into a blender and blend until well pureed. Add more water, as needed, to create a thin juicy consistency.

Pour mango puree into juice glasses, filling each about 1/3 full. Pour champagne on top and stir. Serve with stirs or little spoons, and stir occasionally as the mango puree separates to the bottom.

*Honey mangos are ideal for this recipe to create the least amount of pulp.