Mango Jam Thumbprint Cookies
PREP TIME30 minutes

COOK TIME12 minutes

TOTAL TIME

SERVINGS15
Mango Jam Thumbprint Cookies
Ingredients
For the Fresh MangoJam
2 Ripe Mangos, peeled and diced into small pieces
Zest of 1/2 a lime
1 tbsp Sugar
For the Shortbread Cookies
1/4 cup Unsalted Butter (vegan butter or coconut oil for vegan)
1/4 cup Maple Syrup
1 tsp Almond Extract
1 tsp Vanilla Extract
1 tsp Apple Cider Vinegar
2 cup Almond Flour
1/4 tsp Baking Powder
1/4 tsp Sea Salt
For the Glaze
1/4 cup Powdered Sugar
Milk of Choice, as needed
PREP TIME 30 minutes

COOK TIME12 minutes

TOTAL TIME

SERVINGS15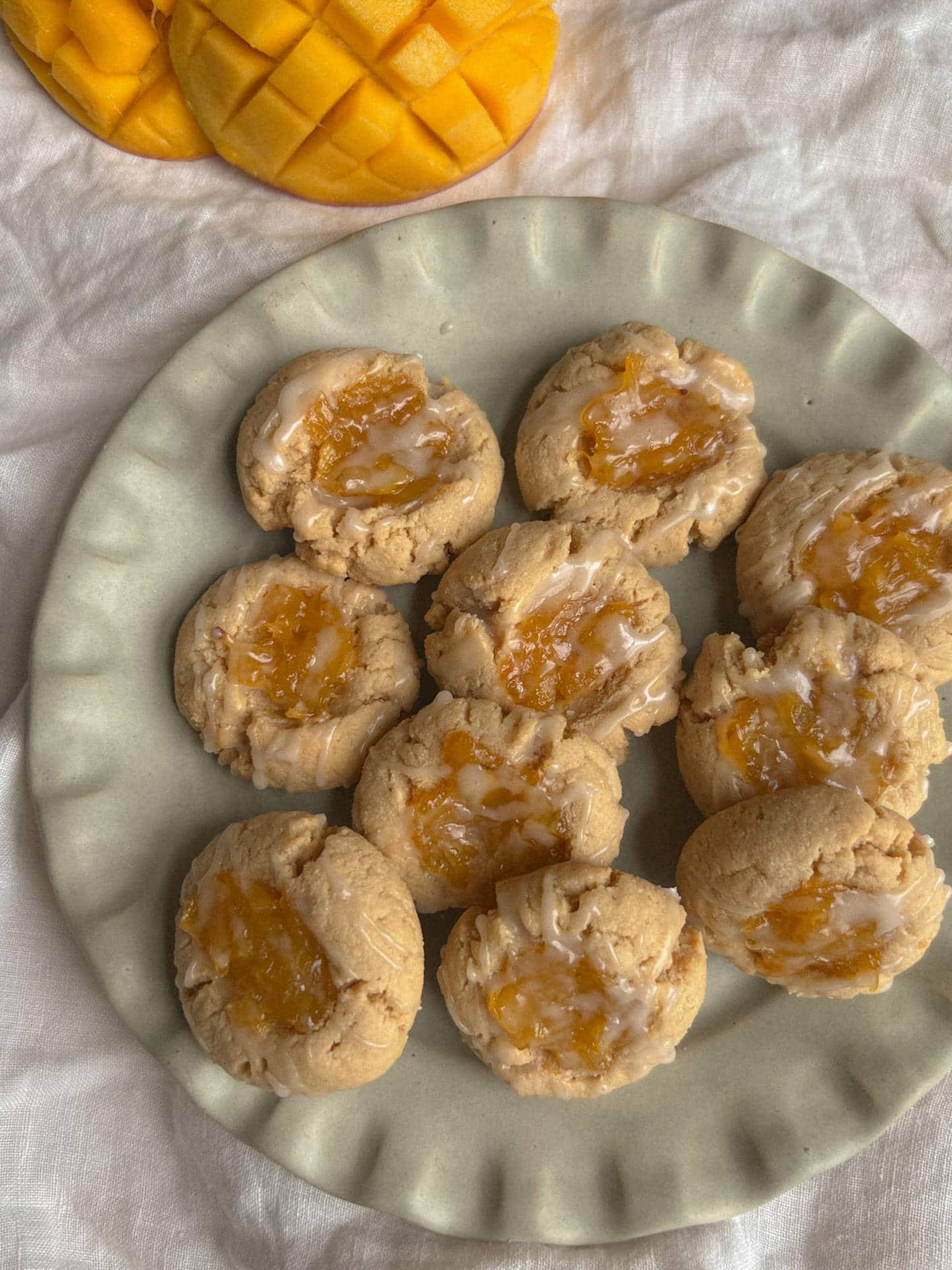 Instructions
To make the jam, add all ingredients to a small saucepan. Mash a few times with a potato masher to release some of the juices from the mango. Bring to a simmer for 20-30 minutes, mashing again halfway through. Set aside and allow to cool.

Meanwhile, make your cookie dough. In a large bowl, whisk together the butter, maple syrup, almond extract, vanilla extract, and apple cider vinegar. Stir in the almond flour, baking powder, and salt until well-combined. Allow to chill in the refrigerator for 20 minutes.

Preheat oven to 350°F and line a baking sheet with parchment paper.

Scoop and roll out your cookies, about 1 tablespoon of the dough at a time. Line the balls of dough out on the baking sheet, then gently use your thumb to press a well into the center of each cookie. 

Spoon some of the mango jam into each well (you will have leftover jam). Bake for 12-13 minutes, then allow to cool. Option to drizzle with the powdered sugar glaze.