Mango Habanero Sangrita
PREP TIME

COOK TIME

TOTAL TIME

SERVINGS0
Recipes Developed by Jorge Fitz and Beto Estua, Casa Jacaranda, Mexico City
Ingredients
1/2 cup fresh lime juice
1/2 cup fresh lemon juice
1 each unripe mango, diced
3 cups tomato juice
1 tbsp grenedine syrup
Dash(es) habanero hot sauce
1 large pinch - freshly ground black pepper
1/4 tsp sea salt
PREP TIME

COOK TIME

TOTAL TIME

SERVINGS0
Recipes Developed by Jorge Fitz and Beto Estua, Casa Jacaranda, Mexico City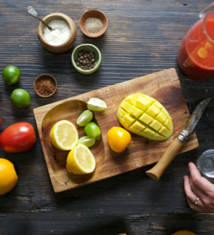 Instructions
Add the lemon juice, lime juice and mango to a blender. Blend into a smooth liquid. 

Add the rest of the ingredients and blend until smooth.

Cover and refrigerate.

Serve chilled in caballitos or small cups that will keep it cold. 

You can spice it up with a pinch of freshly ground black pepper in each cup, or a dash of habanero salsa. 

Pair with your favorite shot of mezcal or tequila on the side.