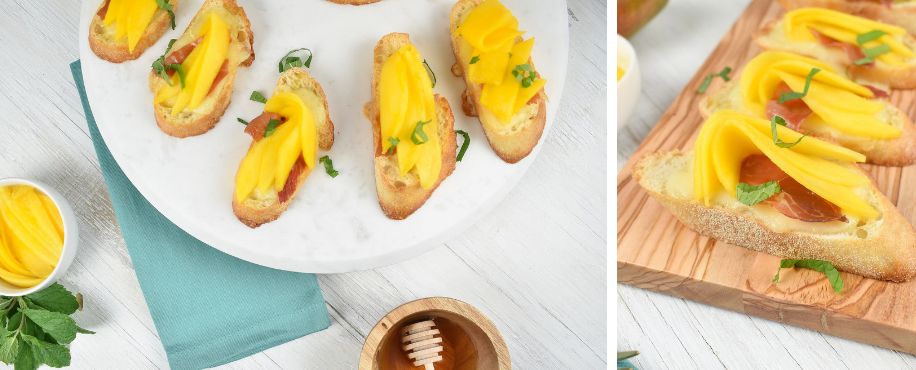 INGREDIENTS
6oz Brie
1 Baguette cut 1/2 inch slices.
4oz Prosciutto, thinly sliced.
1 Ripe Tommy Atkins mango, chopped.
One tablespoon fresh mint
1/2 tablespoon honey
1/2 tablespoon lime juice
1/4 teaspoon salt
2 Tablespoons butter, melted.
Preheat oven to 400 degrees.
Heat a large skillet over medium-high heat. Place prosciutto in the pan and cook until crisp about 3-4 minutes.
Remove from pan and allow to cool before cutting into uniformed pieces to fit on your crostini.
Add mango, mint, honey, lime, and salt to a small bowl and gently stir and set aside.
Place sliced baguette pieces on a nonstick or prepared baking sheet.
Brush each side lightly with melted butter. Bake for 5 minutes until lightly toasted.
Remove from oven and add brie slices on top of the crostini (baguette).
Return to oven and allow to cook for 4-5 minutes more. Until cheese melts and the bottom of the crostini has browned. Remove from oven and set aside.
Place crispy prosciutto on each of the crostini and top with mango mixture.
Garnish with fresh mint if desired.
Recipe submitted by Ayesha Curry