Mango Compote with Mango Scones
PREP TIME5 hours

COOK TIME40 minutes

TOTAL TIME5 hours 40 minutes

SERVINGS12
Recipe courtesy of Chef Sally Camacho, Sally CM, LLC
Mango Compote with Mango Scones
Ingredients
Compote
2 each Fresh Mangos, medium diced
⅓ cup Brown sugar
¼ tsp Sea salt
½ cup Frying oil
2 each  Fresh Rosemary sprigs, tied and wrapped in cheesecloth
½ Fresh lime, juiced
1 each  Fresh Rosemary sprig, garnish
Scones
2 each Large Mangos
1 tsp Sea salt
¼ cup Granulated sugar
1 cup Heavy cream
1 ¼ cup Pecan pieces, toasted
2½ cups Pastry flour
2 tsp Baking powder
7 tbsp Butter, cold, cut into medium dice
1 each Whole egg
PREP TIME 5 hours

COOK TIME40 minutes

TOTAL TIME5 hours 40 minutes

SERVINGS12
Recipe courtesy of Chef Sally Camacho, Sally CM, LLC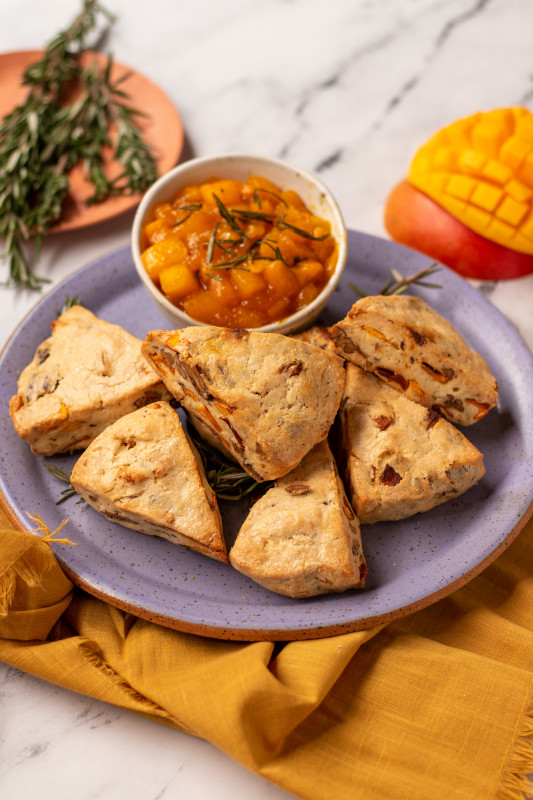 Instructions
Compote
In a pot, combine diced mangos, rosemary, and brown sugar.

Bring to a boil while stirring occasionally.

Lower to a simmer for about 15-20 minutes to soften mangos and allow liquid to evaporate.

Remove from heat.

Add lime juice and salt.

Stir to combine.

Allow to cool to room temperature.

Remove rosemary prior to serving.

In a small pot, bring fry oil to 350 degrees Fahrenheit.

Fry fresh rosemary in frying oil.

Be careful as oil will splatter from the fresh rosemary hitting the hot oil.

Use this to garnish compote prior to serving.
Scones
To make dried mangos, remove skin from mangos and cut into ½ inch thick strips.

Place in a dehydrator or over using a silpat lined sheet tray at 150 degrees Fahrenheit for 8-10 hours or until dried.

Cut strips into a medium dice and reserve for later.

Put all dry in mixer bowl.

With the paddle attachment, cut in cold butter on speed 1.

Butter should resemble pieces the size of pecan halves.

Add mangos and pecan.

While mixer is on speed 1, slowly add cream and eggs.

Mix just to combine.

Mold rounds of dough using a 6 inch ring or 6 inch diameter bowl.

Remove from mold and chill in the refrigerator for 3-5 hours or overnight.

Cut rounds into 6 even triangles.

Brush with cream.

Bake at 350 for 15-20 min.

Serve with compote.

*You may also use 1½ cups chopped up pre-bought dried mango pieces in lieu of making your own.