Mango Coconut Rice
PREP TIME10 minutes

COOK TIME30 minutes

TOTAL TIME

SERVINGS6
Ingredients
2 cups long-grain white rice
2 cups water
1 14-ounce can light coconut milk
1 tbsp plus 3/2 tsp sugar
Salt to taste
1/2 cup raisins
1/4 cup toasted almond slices
1 mango, peeled, pitted and diced
PREP TIME 10 minutes

COOK TIME30 minutes

TOTAL TIME

SERVINGS6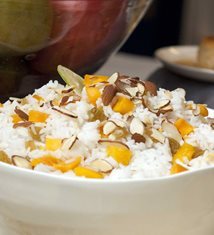 Instructions
Place rice, 2 cups of water, coconut milk, sugar and salt in a medium saucepan and stir to combine. 

Bring rice to a boil, then reduce heat to medium low and simmer, stirring occasionally so that rice doesn't stick to the bottom of the pan and burn, until the water has evaporated to just below the level of the rice and little holes begin to form on the surface.

Reduce heat to the lowest setting, cover saucepan, and continue to cook until the rice is tender, 20 to 25 minutes. 

Fluff rice with a fork and stir in raisins.

Cover saucepan and let it sit off the heat until raisins are plump and warm, about 10 minutes. 

Sprinkle rice with toasted almonds and mango and serve.