Mango Coconut Dessert Risotto
PREP TIME50 minutes

COOK TIME

TOTAL TIME

SERVINGS4
Source: Francis Ang, Dirty Habit (formerly Fifth Floor), San Francisco, CA
Mango Coconut Dessert Risotto
Ingredients
Tamarind Glass (1/2 sheet pan)
5 oz water
3 oz (6 tablespoons) sugar
1 oz (1 tablespoon) tamarind puree
3 g (1 tablespoon) agar agar
Pinch of salt
1/2 oz egg whites
Mango Chili Jam (3/4 cup)
1 large ripe, mango, peeled, seeded and diced*
1/2 Serrano chili, finely diced
4 oz (1/2 cup) sugar, divided
1 tsp pectin
Cookie Crumble (1 cup)
2 oz (1/2 cup) all purpose flour
2½ oz (1/3 cup) sugar
1 oz (2 tablespoons) butter
Pinch of salt
Coconut Risotto (4 cups)
12 oz (2 cups) Arborio rice
2 oz (1/4 cup) extra virgin coconut oil
40 oz (5 cups) water
8 oz (1 cup) coconut milk
2 oz (1/4 cup) coconut butter
1 large ripe mango, peeled and thinly sliced into ribbons*
Kaffir lime leaves, thinly sliced, as needed for garnish
PREP TIME 50 minutes

COOK TIME

TOTAL TIME

SERVINGS4
Source: Francis Ang, Dirty Habit (formerly Fifth Floor), San Francisco, CA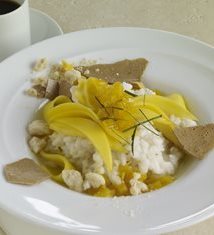 Instructions
To make Tamarind Glass
Combine water, sugar, tamarind puree, agar agar and salt in a blender to puree. Pour mixture into a pan and bring to a boil, whisking constantly. Remove from heat, transfer to a bowl, cover and chill until set, about 1 hour. Pour chilled mixture into blender with egg whites and puree. Spread the mixture as thin as possible onto a silpat or parchment lined half sheet pan. Bake at 200 degrees F until crisp, 40 to 60 minutes. Remove from oven, let cool on pan; break into shards. Store loosely covered until service.
To make Mango Chili Jam
Combine the mango, Serrano chili, and 3 ounces sugar in a pan. Bring to a boil over medium high heat, stirring constantly. Once boiling, add remaining 1 ounce sugar and pectin. Reduce heat to low and continue to cook and stir 4 minutes. Transfer jam into a bowl; cover and refrigerate until service.
To make Cookie Crumble
Combine all ingredients in a food processor and pulse until crumbly. Bake at 325 degrees F approximately 15 minutes, stirring half way through baking time, until golden brown. Store covered until service.
To make Coconut Risotto
Heat the coconut oil in a pan on medium-low heat. Add the rice and lightly toast. Begin adding water an ounce or two at a time while continuing to stir, allowing all the liquid to be absorbed before adding more. Continue until all the liquid has been added and rice is cooked through, adding additional water if needed. Stir in coconut milk and coconut butter until thoroughly mixed and heated through. Keep warm.
Per Serving
Pour 1 cup Coconut Risotto into a bowl. Swirl ¼ of the mango slices in on top of the rice. Scatter ¼ cup Cookie Crumble over dessert. Garnish with thinly sliced kaffir lime and a few shards of Tamarind Glass. Spoon small amounts of Mango Chili Jam on the side.

*A typical 9 count mango weighs about 18 ounces and yields approximately 11 ounces useable fruit. One cup 3/8-inch diced mango weighs 6.35 ounces.