Mango Crème Brûlée
PREP TIME30 minutes

COOK TIME30 minutes

TOTAL TIME1 hour

SERVINGS6
Recipe courtesy of Chef Sally Camacho, Sally CM, LLC
Ingredients
¾ cup Fresh mango puree
½ each Vanilla beans
⅓ cup Granulated sugar
Turbinado sugar, as needed
2½ cup Heavy cream
7 each Egg yolks
1 each Fresh Mango, diced
Fresh sliced mango for garnish, as needed
PREP TIME 30 minutes

COOK TIME30 minutes

TOTAL TIME1 hour

SERVINGS6
Recipe courtesy of Chef Sally Camacho, Sally CM, LLC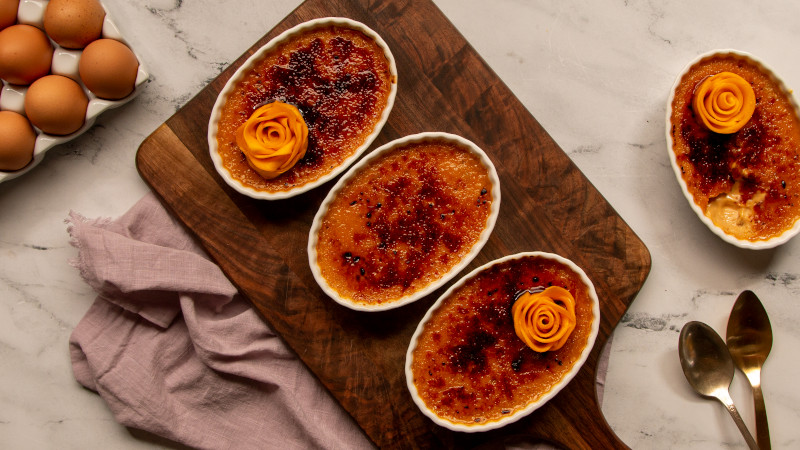 Instructions
In a medium pot, combine the mango puree, cream, cut and scrape beans from the vanilla pod, and sugar.

Bring mixture to a scald.

Remove from heat.

Using a bowl and whisk, temper hot mixture into the egg yolks.

Remove vanilla pod.

Place brulee ramekins onto a sheet tray.

Place diced mango in ramekins.

Pour custard over fruit to fill ramekin.

Pour hot water onto the sheet tray to create a bain marie.

Bake in a preheated 280-degree Fahrenheit oven for 20-30 minutes.

Check if it's done by shaking the ramekins slightly. It should jiggle like jello.

Remove from the oven.

Allow to sit at room temperature for 10-15 minutes, then place in the refrigerator to chill for at least 3-4 hours.

To serve, brulee top with turbinado sugar.

Garnish with sliced mango "flower."