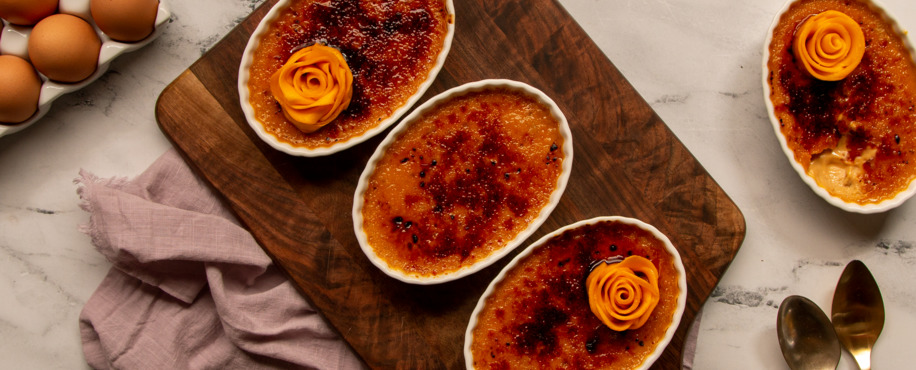 Ingredients
3/4

cup

Fresh mango puree

2 ¼

cup

Heavy Cream

1/2

each

Vanilla beans

7

each

Egg yolks

1/3

cup

Granulated sugar

1

each

Fresh Mango, diced

Turbinado sugar, as needed

Fresh sliced mango for garnish, as needed
Instructions
In a medium pot, combine the mango puree, cream, cut and scrape beans from the vanilla pod, and sugar.

Bring mixture to a scald.

Using a bowl and whisk, temper hot mixture into the egg yolks.

Place brulee ramekins onto a sheet tray.

Place diced mango in ramekins.

Pour custard over fruit to fill ramekin.

Pour hot water onto the sheet tray to create a bain marie.

Bake in a preheated 280-degree Fahrenheit oven for 20-30 minutes.

Check if it's done by shaking the ramekins slightly. It should jiggle like jello.

Allow to sit at room temperature for 10-15 minutes, then place in the refrigerator to chill.

To serve, brulee top with turbinado sugar.

Garnish with sliced mango "flower."
Recipe Notes
Recipe courtesy of Chef Sally Camacho, Sally CM, LLC