Mango Chiles Rellenos Al Carbon
PREP TIME20 minutes

COOK TIME5 minutes

TOTAL TIME

SERVINGS6
Mango Chiles Rellenos Al Carbon
Ingredients
6 large poblano or Anaheim peppers
1/2 medium white onion, peeled and cut into rings
2 ripe mangos, peeled, pitted and sliced, divided
6 ounces jack cheese, cut into double the strips
1 tbsp lime juice
1 very small chipotle pepper
1 tsp adobo sauce from can
Snipped fresh cilantro
PREP TIME 20 minutes

COOK TIME5 minutes

TOTAL TIME

SERVINGS6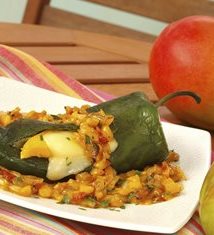 Instructions
Grill peppers and onions over high heat until peppers are well charred and onion is lightly charred.

Place peppers in paper bag and fold top over several times; set aside for 20 minutes. 

Remove peels from peppers by rubbing gently with fingers. 

Make a slit the length of each pepper and carefully remove seeds and membranes. 

Place 2 large mango slices and 2 cheese strips inside each pepper. 

Place on large piece of heavy duty foil and grill over medium heat for 5 to 10 minutes, or until cheese is melted. 

Remove from grill and keep warm. 

 Chop 1/2 cup mango. 

 Puree grilled onions, remaining mango, lime juice, chipotle peppers and adobo sauce until smooth. 

Season to taste with salt and stir in chopped mango. 

Place small amount of mango salsa on each serving plate and top each relleno with additional salsa and snipped cilantro.