Mango Charcuterie Board
PREP TIME

COOK TIME

TOTAL TIME

SERVINGS4
Ingredients
3 Ripe Mangos
Sesame crackers
Cured meats and cheeses
Pickled Mangos
1 cup Water
1 cup Red Wine Vinegar
1/2 cup White Granulated Sugar
Spicy Mango Relish
2-6 Chile de Arbol
1 tbsp Mustard Seeds
1 tsp Turmeric
1/2 cup Brown Sugar
PREP TIME

COOK TIME

TOTAL TIME

SERVINGS4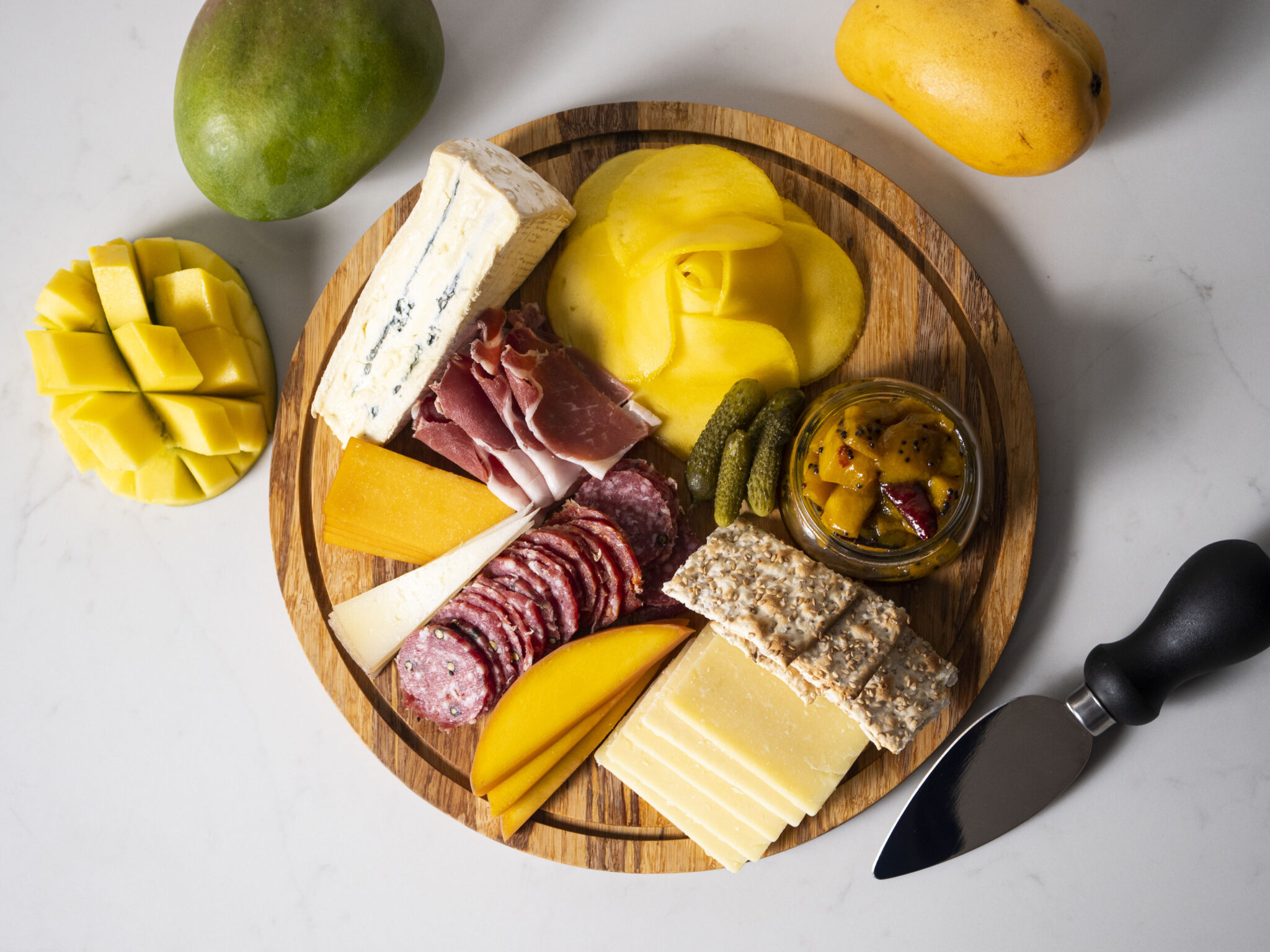 Instructions
Pickled Mango
Peel 1 mango and cut the cheeks away from the flat sides of the seed. Cut each cheek into wedges and place in a non-reactive bowl, container or jar. Trim any remaining fruit from the mangoseed and add to the relish.

Bring the water, vinegar and white sugar to a boil and pour over the mango. Let cool.
Spicy Mango Relish
Peel 1 mango, cut the flesh away from the seed and dice. In a pan, sauté the chile de arbol and  mustard seeds for 30 seconds. Stir in the diced mango and turmeric. Cover with water, add brown sugar and reduce.
Mango Rose
To create a mango rose, slice the remaining mango with a sharp mandolin or meat slicer. Using a cookie cutter cut each slice into rounds. Using a jar, slowly add the slices staggering to cover the lip of the jar. Continue until you no longer can fit any slices in. Flipand place mango rose onto board
Build the Board
Plate with crackers and your favorite meats and cheeses.