Mango Cado Toast
PREP TIME

COOK TIME

TOTAL TIME

SERVINGS0
Recipe courtesy of Chef Jason Hernandez of Blade & Tine Culinary Consulting
Ingredients
Mango - Cado Toast
1 Toasted Bread (Sliced)
1 oz Mango Cream Cheese
2 oz Mango Guacamole
1/2 Mango Slices
1/4 oz Micro Greens
1/4 tsp Red Chili Flakes
1/4 fl oz Mango Vinegar
Mango Cream Cheese
8 oz Softened Cream Cheese
1/4 tsp Salt
1/2 tsp Minced Ginger or in Juice
1/2 cup Mango Pieces 1/4" Sliced
2 tsp Mango Vinegar
Mango Guacamole
2 Avocado 1/4" Sliced (Skin and Pit Removed)
2 tbsp Chopped Cilantro
1/2 tsp Salt, Pepper, and Garlic Seasoning
1 tsp Ginger
1 fl oz Lime Juice
1/4 tsp Cumin
1/4 tsp Chili Powder
1/2 cup Mango Pieces 1/4" Sliced
PREP TIME

COOK TIME

TOTAL TIME

SERVINGS0
Recipe courtesy of Chef Jason Hernandez of Blade & Tine Culinary Consulting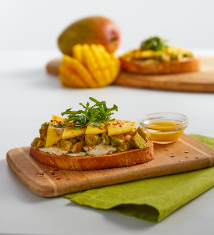 Instructions
Mango Cado Toast
Toast the bread until golden brown, once toasted place on board to build.

Spread the softened cream cheese over the bread making sure to get it edge to edge.

Place the mango guacamole mixture over the cream cheese leaving space to see the colors from the bread and the cream cheese

Slice and place the mango slices over the guacamole spread, make sure to fan out evenly.

Place the micro greens in the center of the toast.

Sprinkle the red pepper flakes over the entire toast.

Drizzle the vinegar over the entire toast do not saturate.
Mango Cream Cheese
Make sure that the cream cheese is at room temperature and soft.

In a mixing bowl spread the cream cheese around the bowl.

Add all the ingredients to the bowl and using a spatula fold all of the ingredients together. Make sure not to smash the mango pieces. Set aside until ready to build.
Mango Guacamole
Carefully cut the avocado in half and remove the seed.

Using a sharp knife cut the flesh of the avocado length wise then slice ¼" slices in the opposite direction making small squares. Place into mixing bowl.

Place all additional ingredients into the bowl.

Using a spatula fold in the ingredients until all are fully combined, making sure to not smash the avocado or the mango pieces. Place in container until ready to use.