Fresh Mango & Lobster Arancini with Charred Mango-Tomato Dipping Sauce
PREP TIME

COOK TIME

TOTAL TIME

SERVINGS10
Source: Chef Dave Woolley, CD Culinary Support
Fresh Mango & Lobster Arancini with Charred Mango-Tomato Dipping Sauce
Ingredients
Fresh Mango & Lobster Arancini
4-1/2 cups chicken, seafood or vegetable stock
1-1/2 cups Arborio rice, toasted
3 large eggs
1/2 cup finely chopped ripe fresh mango (not minced)*
1/2 cup finely chopped cooked lobster meat
1/2 cup grated parmesan cheese
1/2 cup shredded fontina cheese
3/4 cup breadcrumbs, divided
1/4 cup grated parmesan cheese, for garnish
1 tablespoon chopped fresh parsley, for garnish
Kosher salt, as needed/to taste
Charred Mango-Tomato Dipping Sauce (YIELD: 2 cups)
1 garlic bulb
1 pound oven roasted tomatoes
1-1/4 pounds fresh mango chunks, instructions follow, to yield 2 pounds caramelized mango chunks*
1 small red bell pepper
1 ounce white balsamic glaze
1 ounce extra virgin olive oil
5 to 6 fresh thyme sprigs
2 to 3 basil leaves
Salt and pepper, as needed/to taste
PREP TIME

COOK TIME

TOTAL TIME

SERVINGS10
Source: Chef Dave Woolley, CD Culinary Support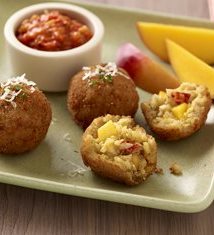 Instructions
Charred Mango-Tomato Dipping Sauce, recipe follows:
Bring the broth and 1/4 teaspoon salt to a boil over medium-high heat. Stir in the toasted Arborio rice; reduce the heat to low and simmer until tender, about 20 minutes. Spread on a parchment-lined baking sheet and let cool completely.

Beat the eggs in a large bowl; stir in the cooled rice, fresh mango, lobster, parmesan, fontina and 1/3 cup breadcrumbs. Season this mixture with salt, to taste. Shape the mixture into 10 1-1/2-inch balls (about 1-1/2 ounces each).

Put the remaining breadcrumbs in a shallow bowl. Roll the balls in the breadcrumbs and place on a parchment-lined baking sheet. Loosely cover and refrigerate, at least 1 hour or overnight. (If refrigerating overnight, roll in more breadcrumbs before frying.)

In 350 degree F fryer, working in batches, fry the rice balls, turning, until golden brown on all sides, about 4 minutes. Remove and drain on paper towels; season with salt.

To serve: plate Fresh Mango & Lobster Arancini with a ramekin of Charred Mango-Tomato Dipping Sauce. Garnish with remaining parmesan and chopped parsley.

Preheat oven to 400 degrees F. Drizzle a little olive oil over the garlic bulb and wrap tightly in a foil pouch. Roast 30 to 40 minutes until golden and very soft. When cool, squeeze garlic cloves from their skins; reserve.

To caramelize mango chunks: arrange mango chunks on two baking sheets and drizzle with olive oil. Season with salt and pepper, to taste. Strip 5 to 6 small stems of thyme for each pan and sprinkle over the mangos chunks. Roast at 350 degrees F 1 hour or until well-slumped and caramelized. Scrape burnt edges from sheet pans, and mix into caramelized mangos.

Char red bell pepper over an open flame on a stovetop or under a broiler until the skin is evenly blackened and papery at the edges. Place in a bowl, cover and cool. Peel and seed peppers.

Working in batches, if necessary, place half of the roasted garlic cloves, roasted tomatoes, caramelized mango chunks, roasted red bell pepper, white balsamic glaze and fresh basil in high-powered blender or a food processor. Purée only until slightly chunky. Repeat with second half of ingredients. Taste and adjust salt and pepper as necessary. Transfer to a pot and simmer to serve warm.