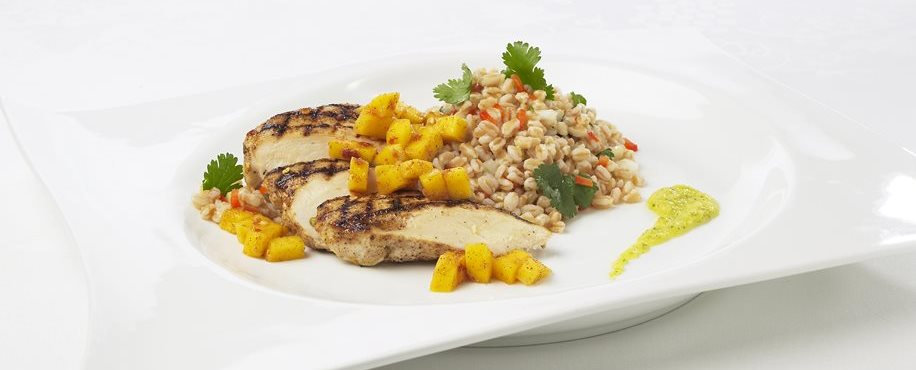 INGREDIENTS
MANGO PUREE:
2 teaspoons vegetable base
1-1/3 cups diced fresh mango
1 cup water
QUINOA:
2 teaspoons butter
1 tablespoon olive oil
3/4 tablespoon olive oil
1 tablespoon minced garlic
1-1/2 cups dry red quinoa
1/3 cup white wine
1/4 teaspoon jerk seasoning
2 cups water
2 cups reserved mango puree
1/2 cup crumbled goat cheese
MANGO PESTO:
2 tablespoons toasted pine nuts
1/2 cup cilantro leaves
1/2 cup fresh mint leaves
1/3 cup reserved mango puree
MANGO TOPPER:
1 tablespoon fresh lime juice
1 tablespoon light brown sugar
1/4 teaspoon crush red pepper
1/4 teaspoon garlic powder
1/8 teaspoon ground cinnamon
1/2 teaspoon ground allspice
1 tablespoon diced green pepper
1 tablespoon diced red pepper
1 teaspoon chopped cilantro
1/2 cup diced fresh mango
CHICKEN:
36 oz boneless skinless chicken breast
1/3 cup jerk seasoning
3 tablespoons canola oil
To make Savory Mango Puree:
Combine all ingredients in a pan and bring to a simmer. Cook 20 to 30 minutes, until the mango is broken down. Carefully blend hot mixture until smooth. Measure 1/3 cup for pesto. Reserve larger portion (approximately 2 cups) for quinoa.


To make Quinoa:
Heat butter and oil in a pan; add onion and garlic and sauté until onion is translucent. Add quinoa and cook for another 2 minutes, stirring constantly. Deglaze pan with white wine and allow to cook for 2 minutes to cook off alcohol. Add jerk seasoning, water and larger portion of mango puree. Reduce heat to low and cook 15 to 20 minutes, until quinoa is tender. Stir in crumbled goat cheese.


To make Mango Pesto:
Blend all ingredients until well combined but still has a grainy texture. Reserve.


To make Mango Topper:
Combine all ingredients in a bowl and gently fold until well blended. Reserve.


To make Chicken:
Mix the canola oil and jerk seasoning. Toss with chicken until the seasoning is evenly distributed. Place on a well-oiled grill and cook until the chicken reaches an internal temperature of 165˚F, 5 to 7 minutes on each side. Remove from grill and let rest 5 minutes.
To plate, arrange 3 oz sliced chicken on plate with quinoa. Top with Mango Topper and garnish with Mango Pesto.

Source: Chef Norbert Bomm, Morrison Management Specialties