Gulab "Persian Mint Julep with a Twist"
PREP TIME

COOK TIME

TOTAL TIME

SERVINGS1
Source: Newport Beach Marriott Hotel & Spa
Gulab "Persian Mint Julep with a Twist"
Ingredients
Pernod, for rinsing
4 mint sprigs
1/2 oz mango juice
3 dashes celery bitters
1 oz Ginger-infused Simple Syrup
2 oz Cognac
2 oz chilled ginger beer
2 fresh cherries and 2 strips of orange zest, for garnish
PREP TIME

COOK TIME

TOTAL TIME

SERVINGS1
Source: Newport Beach Marriott Hotel & Spa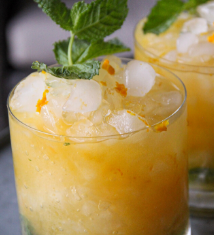 Instructions
Swirl about 1 teaspoon Pernod in a highball glass, to coat the inside of the glass; discard any remaining liquid.

Place the mint leaves in the bottom of the glass and top with the ginger-infused simple syrup.

Muddle these together until the leaves begin to break down.

Add 1 ounce of the ginger beer and fill the glass ¾ full with crushed ice.

Pour the mango juice, celery bitters and Cognac over the ice and stir well, until the glass becomes frosty.

Top with remaining ginger beer, stir once and garnish with a fresh mint sprig and mango spear.

We need mango slice garnish or diced mango in the glass or on the skewer with the cherry and orange zest.