Grilled Ham and Cheese with Mango
PREP TIME10 minutes

COOK TIME10 minutes

TOTAL TIME

SERVINGS1
Grilled Ham and Cheese with Mango
Ingredients
2 Tbsp Softened Butter
2 Slices Whole Wheat Bread
2 Slices Monterey Jack Cheese
4 Slices Deli Ham
1 Mango (about 1 lb)
PREP TIME 10 minutes

COOK TIME10 minutes

TOTAL TIME

SERVINGS1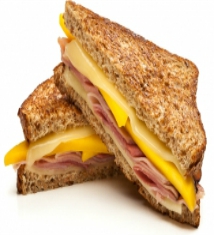 Instructions
Spread 1 tablespoon butter on one side of each piece of bread.

On first slice of bread, place 1 slice cheese, ham and mango on unbuttered side of bread.

Top with remaining slice of cheese and second piece of bread, buttered side up.

Heat small, nonstick skillet over medium-low heat.

Place sandwich in skillet and cook until golden brown and cheese is melted, 3 to 4 minutes per side.