Dairy-Free Mango Crème Brûlée
PREP TIME

COOK TIME

TOTAL TIME

SERVINGS0
Dairy-Free Mango Crème Brûlée
Ingredients
1 Cup Fresh Mango
1 (13.5 oz) Can of Full-Fat Coconut Milk
1 Vanilla Bean
8 Farm Fresh Egg Yolks
½ Cup Sugar
PREP TIME

COOK TIME

TOTAL TIME

SERVINGS0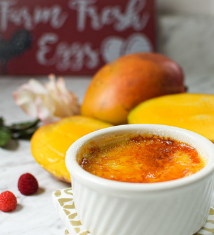 Instructions
Preheat oven to 325 degrees F.

In a medium pot on the stovetop or in a tea kettle, bring 6-8 cups of water to a boil.

In a small saucepan over medium-high heat, combine the fresh mango puree, coconut milk and vanilla bean. 

Stir well.

Bring mixture to a boil.

Once boiling, turn the heat off and allow the mixture to stand for 10 minutes.

In a separate bowl, whisk together the egg yolks and 1/4 cup sugar until well combined.

While whisking, slowly ladle the mango cream into the egg yolk mixture until all of the cream is fully incorporated.

Pour the final mixture evenly into small, oven-safe ramekins.

Place the ramekins in a larger oven-safe vessel, such as a casserole dish.

Pour the boiling water into the vessel, around the ramekins, until the water reaches 2/3 of the way up the sides of the ramekins.

Carefully place the vessel into the oven and bake for 40 minutes. 

You want to make sure the custard is set on the outer edges of the ramekins with a soft (but not soupy) center in the middle.

Carefully remove the pan from the oven. 

Allow the ramekins to cool in the water bath.

When able to handle ramekins safely, place in the refrigerator, uncovered, to finish cooling.

Allow to cool completely, at least 3 hours. Overnight is best.

Crème brûlée can sit in the refrigerator for 2-3 days before caramelizing, if needed.
For The Caramelized Sugar Topping:
When caramelizing the tops of your crème brûlée, be sure to work one ramekin at a time for best results.

Sprinkle 1 tablespoon of sugar over the crème brûlée and gently shake to distribute evenly among the top.

With a lit torch, hold the base of the crème brûlée in your hand and gently torch the sugar.

As the sugar starts to melt, keep the torch and ramekin moving in circular motions to evenly distribute the heat and prevent burning.

The sugar should be golden brown and create a syrup-like consistency that will be rock hard when cool.

Allow to cool for at least 2 minutes before serving.

Garnish with fresh mango as desired.