Avocado and Mango Salad
PREP TIME

COOK TIME

TOTAL TIME

SERVINGS4
Ingredients
SALAD:
8-1/2 oz. mango, small dice (2 mangoes)
6 oz. barrel aged sheep and goat's milk feta cheese
4 oz. spring mixed greens
2 each large Fresh California Avocados, peeled, seeded and halved
As Needed: Johnny Jump Up flowers
As Needed: arugula flowers
As Needed: borage flowers
WHITE BALSAMIC VINAIGRETTE (yield: 1 1/2 cups):
1/4 oz. shallot, minced
3 oz. white balsamic vinegar
8 oz. extra virgin olive oil
salt to taste
MANGO VINAIGRETTE:
4-1/4 oz. mango, small dice
1 tbsp olive oil
1 tbsp sugar
salt to taste
6 oz. White Balsamic Vinaigrette
PREP TIME

COOK TIME

TOTAL TIME

SERVINGS4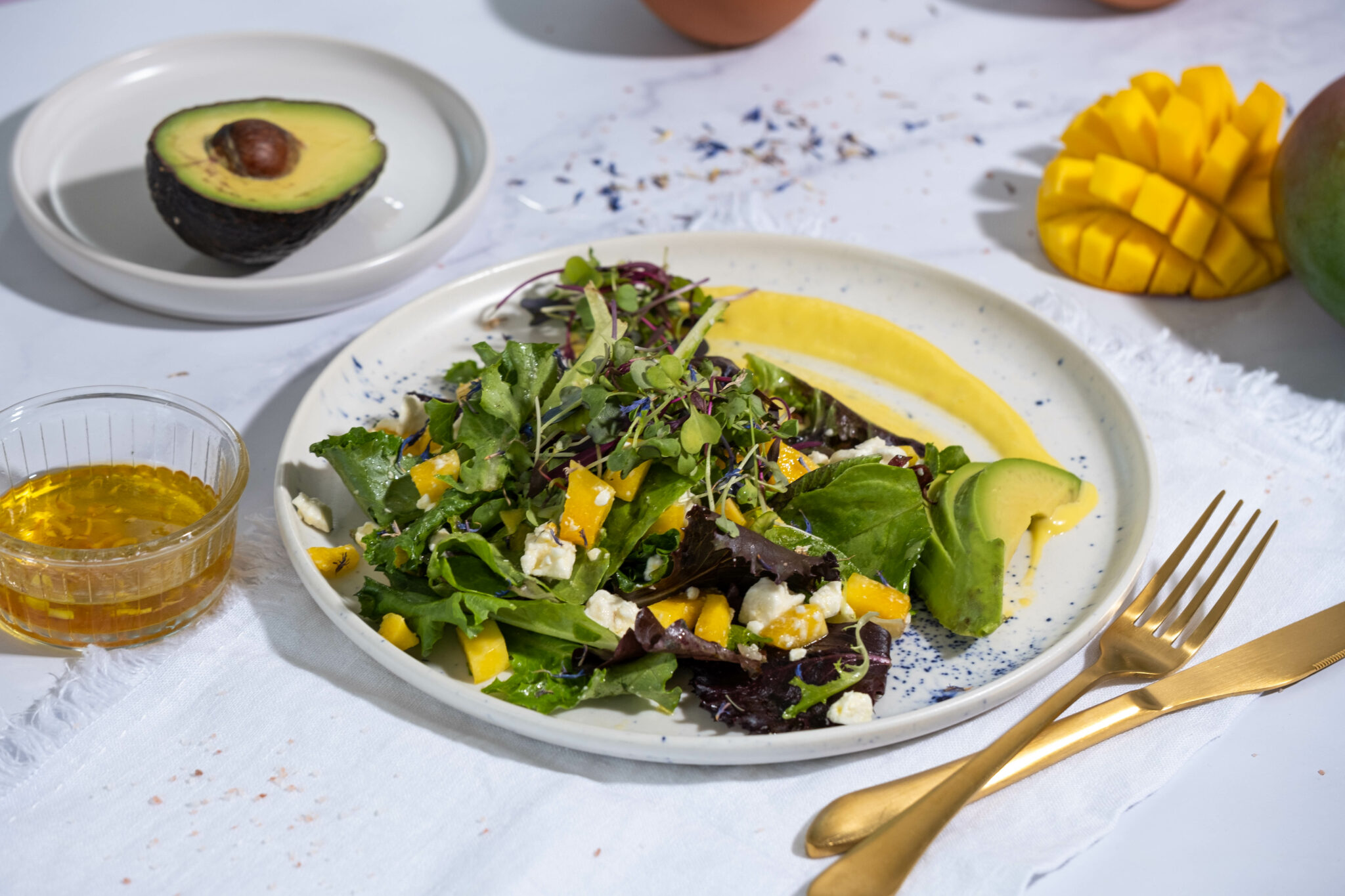 Instructions
White Balsamic Vinaigrette:
Place the shallots in a bowl.

Add the white balsamic vinegar, set aside for 15 minutes.

Add the extra virgin olive oil and whisk to emulsify.

Season to taste with salt.

Reserve 3/4 cup vinaigrette to dress the salad.

Save the remaining 3/4 cup for the mango vinaigrette.
Mango Vinaigrette:
Place the mango and the tablespoon of olive oil and sugar to a blender.

Blend on low speed for 30 seconds; slowly pour in the remaining 3/4 cup of the white balsamic vinaigrette.

Continue to blend until smooth.

Season with salt.
Salad:
Crumble the feta cheese in a large bowl and add the diced mango and a pinch of salt.

Add the mixed greens and toss with enough white balsamic vinaigrette to completely coat the greens, adding more vinaigrette or salt to taste.

Slice each avocado half vertically into approximately 1/4-inch slices, while still leaving the halves intact.

Lightly salt the surface of each avocado and set aside for plating.
To Assemble:
On each plate, drop 1 tablespoon of mango vinaigrette in one corner and spread across the plate with the back of a spoon to the opposite corner in a half-moon shape.

Spread the slices of each avocado half with both hands to elongate into one strip.

Curve each strip into a circle shape and place one avocado ring in the corner of each plate at the tip of the mango vinaigrette with the open part of the avocado facing the center of the plate.

Place 1/4 of the salad in the center of each avocado ring.

Garnish with 2-3 of each flower. Source: Chef Nora Pouillon, Nora Washington, DC