Scary Good Recipes for Halloween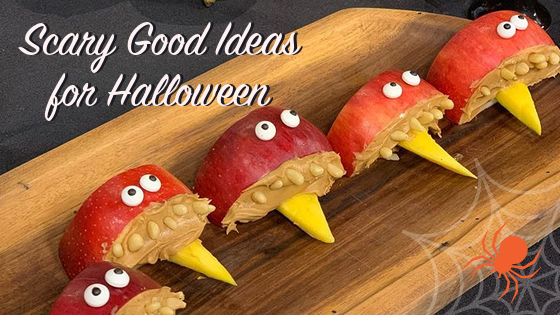 Halloween is fast approaching, and we've got some frightfully good ideas for your Halloween party using an ingredient that you might not even realize is in season this time of year – mango!
Mangos are deliciously sweet so they may feel like a treat, but they offer many valuable nutrients, including 100% of your daily value for Vitamin C per one cup serving. Mangos are packed with such goodness that they can be enjoyed every day and every month of year – there's a mango for all seasons, making them perfect for everyday meals, as well as holidays.
Here are some ideas on how to enjoy this feel-good treat during your kids' favorite fall holiday .
Mango Witch Fingers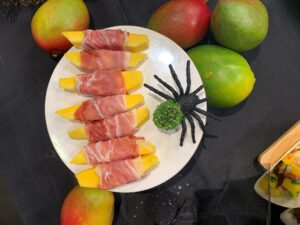 Do you love the classic melon and prosciutto appetizer? Then you'll surely enjoy some prosciutto wrapped mango slices. These mango witch fingers are a spectacularly spooky sweet-and-savory appetizer for Halloween!
Mango Candy Corn
Here's something really fun for the kids – mango fruit kabobs that look like candy corn.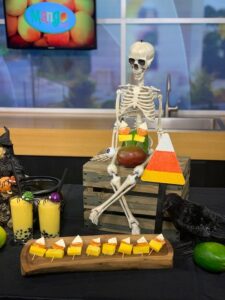 Candy is a "sometimes" treat, but mangos – which only contain natural sugar – are a sweet that you can feel good about. Not only are mangos an excellent source of vitamin C, they also offer vitamin A, fiber and folate. It's super easy to make mangolicious candy corn. Just layer a slice of mango on a skewer with a slice of orange and a triangle of mozzarella, repeat for more!
Apple Monsters with Mango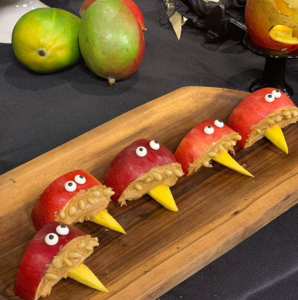 What's Halloween without a few monsters? This kid favorite is made with apples, peanut butter, pine nuts and a sweet triangle of mango for the tongue. Add a candy eyeball or two for a googly great snack! 
Mango Bubble Tea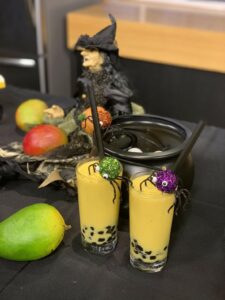 And what about a not-so-dreadful drink? It's super easy to make your own wickedly flavorful mango bubble milk tea with spooky chewy tapioca balls.  Check out this delicious recipe for a trendy mango bubble tea.
Ingredients
2 cups fresh or frozen mango
1 cup cooled Jasmine Tea
1 cup milk or coconut milk
2 cups tapioca pearls
¼ cup honey
Directions
Make the Pearls:
Boil water and add tapioca pearls until they float. Continue boiling for 15 minutes, stirring occasionally.
Drain and rinse with cold water. Drizzle honey on the pearls and refrigerate until ready to use.
Put mango, tea and milk in a blender and blend until smooth.
Serve over tapioca pearls.
Mang-O-Lantern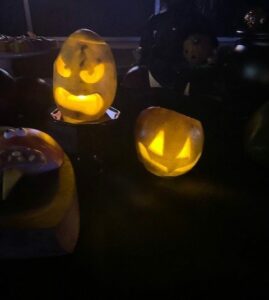 Mangos have a beautiful fall color. Did you know that they can be carved into super cute jack-o-lanterns (or mango-lanterns) as a Halloween decoration? You can even add them to your party table on a stand instead of candles. Plus, you can fill them with your favorite dip such as mango guacamole or a mango salsa – and serve with colorful tortilla chips.
There are so many fun ways to add mango to the Halloween menu this year. For more mango and Halloween fun, see these recipes.