Pan Seared Cod with Mango Strawberry Pico de Gallo and Cumin Mango Gastrique For Home Chefs
PREP TIME30 minutes

COOK TIME30 minutes

TOTAL TIME1 hour

SERVINGS4
Recipe courtesy of Chef David J Stadtmiller, TGI Friday's
Pan Seared Cod with Mango Strawberry Pico de Gallo and Cumin Mango Gastrique For Home Chefs
Ingredients
Cumin Mango Gastrique
1¼ cup fully ripe mango, 3/8-inch dice
½ cup honey
½ cup white vinegar
½ tsp kosher salt
½ tsp cumin
Mango Strawberry Pico de Gallo
½ cup fully ripe mango, 1/8-inch dice
¼ cup  strawberries, 1/8-inch dice
2 large  jalapeno peppers, wheel sliced 1/16 inch
½ tbsp chopped cilantro
1 large fresh lime, juiced
Kosher salt, to taste
Poached Purple Potatoes
8 small purple potatoes (diameter 1-½ to 2-¼ inches)
⅛ cup kosher salt
Sautéed Asparagus Spears
12 asparagus spears, cleaned and trimmed
Pan Seared Cod
8 pieces cod, 3 ounces each
Salt, pepper and cumin, to taste
PREP TIME 30 minutes

COOK TIME30 minutes

TOTAL TIME1 hour

SERVINGS4
Recipe courtesy of Chef David J Stadtmiller, TGI Friday's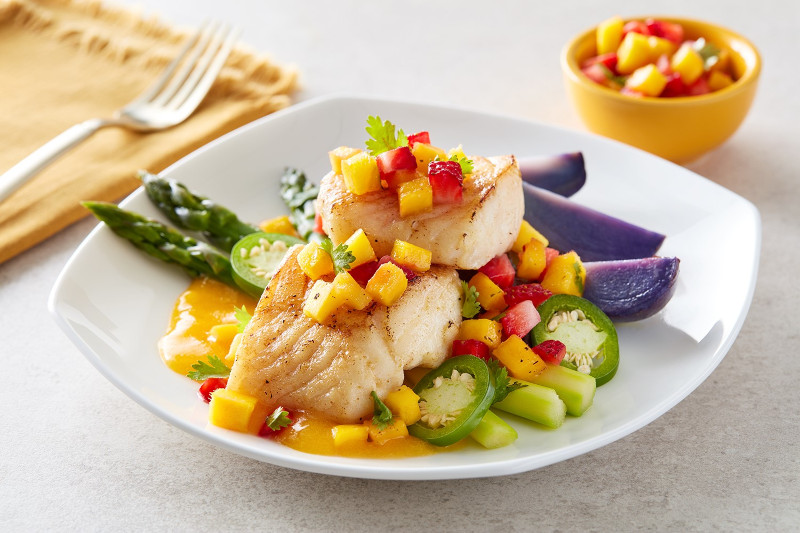 Instructions
Cumin Mango Gastrique:
In a medium size sauté pan, place the mango, honey and vinegar; bring to a boil. Reduce to medium high heat and cook 3-4 minutes or until large bubbles form. Do not completely cook out liquid. Remove sauté pan from the heat and pour the mango, honey and vinegar into a blender. Add the salt and cumin. Cover and blend for 45 seconds or until completely smooth. (NOTE: Hold lid down with a towel to ensure the steam does not blow the top off.) Cool and refrigerate puree. Reheat for service.
Mango Strawberry Pico de Gallo:
Combine all ingredients in a stainless steel bowl mix with lime juice and salt until fully incorporated. Refrigerate until ready to serve.
Poached Purple Potatoes:
Add water to a 12 qt sauce pan with 1/8 cup kosher salt; bring to boil; add whole potatoes and cook 10-12 minutes or until potatoes are fork tender. Drain off hot water, place ice and cold water back onto potatoes to stop cooking. Drain and allow to cool. Once potatoes are cooled, cut into quarters lengthwise. Just before serving, combine potatoes with 1 Tbsp vegetable oil and heat in microwave about 30 seconds.
Pan Seared Cod:
Spoon 3 Tbsp hot Cumin Mango Gastrique onto each plate. With the back of the spoon, spread the gastrique into a half moon. Place the asparagus across the gastrique at a diagonal. Position the cod on top the asparagus and top with 1/8 cup of Mango Strawberry Pico de Gallo. Finish the plate with hot potato wedges.