Mango Cidertini
PREP TIME

COOK TIME

TOTAL TIME

SERVINGS2
Recipe submitted by Matt Robinson, Real Food by Dad  
Ingredients
For the Mango Cidertini
6 oz mango cider (recipe below)
1 oz light rum
1½ oz vodka
1 oz Grand Marnier
For the Homemade Mango Cider
7 mangos, seeded and cut into large cubes
1/2 cup granulated sugar
2 tbsp clovers (if using ground cloves, use 2 teaspoons)
1 tbsp all spice
5 apples, cored and quartered
4 cinnamon sticks (if using ground cinnamon, use 2 tablespoons)
1 tbsp of fresh sliced ginger
PREP TIME

COOK TIME

TOTAL TIME

SERVINGS2
Recipe submitted by Matt Robinson, Real Food by Dad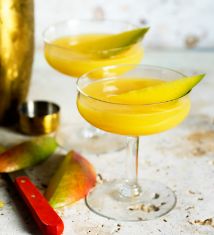 Instructions
To make homemade mango cider
Place all ingredients in a slow cooker, set to low and let cook for 6 hours.

Drain cider through a cheesecloth-lined sieve.

Store in the refrigerator.
To make the mango cidertini
Fill the shaker with ice.

Add all the ingredients and shake vigorously.

Strain into the glasses.

Serve with a mango slice.