Mango Candy Corn Trifle Recipe
PREP TIME

COOK TIME

TOTAL TIME

SERVINGS4
Mango Candy Corn Trifle Recipe
Ingredients
Mango Custard
4 Large Egg Yolks
1 cup Fresh Mango, pureed
2 tbsp Cornstarch
1 cup 2% Milk
1/2 cup Heavy Cream
1/4 cup Honey
1/4 tsp Ground Tumeric
1/2 tsp Vanilla
Mango Soaked Sponge Cake
2 cup Pound Cake, diced into 1/2 inch pieces, divided
1 cup Mango Nectar, divided
1/2 cup Fresh Mango, diced
Whipped Topping
1 cup Whipped Cream or Whipped Topping
Candy Corn, for garnish (optional)
PREP TIME

COOK TIME

TOTAL TIME

SERVINGS4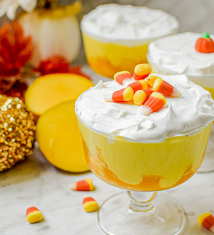 Instructions
In a bowl, whisk together the egg yolks and the mango puree until well incorporated.

In a 2-quart saucepan, add the cornstarch. Slowly whisk in the milk until well incorporated.

Whisk in the cream and the honey.

Place over medium heat and heat to approximately 180 degrees. Do not let boil.

Slowly* temper the milk mixture into the bowl with the egg yolks and mango.

Return the mixture back to the saucepan over medium heat and stir in ground turmeric.

Bring to a boil, hit at least 210 degrees, constantly whisking the entire time. Once the temperature hits 210, return the heat to low and allow to simmer for 5 minutes.

Remove from heat, whisk in the vanilla.

Divide evenly into 4 trifle cups and refrigerate for at least 4 hours, overnight for best results.

Once chilled, top each trifle cup with 1/2 cup pound cake, 2 tablespoons fresh mango, and top with 1/4 cup mango nectar.

Top with whipped cream of choice and candy corns if using. Enjoy!

*Be sure to slowly incorporate the milk with the cornstarch so you don't get lumps. Temper means to constantly whisk the yolk and the mango while adding a light stream of hot milk to it with a ladle. This helps to slowly bring up the temperature of the egg yolks. If you don't do this slowly, the egg yolks will cook and get lumpy.