Mango Bread
PREP TIME20 minutes

COOK TIME40 minutes

TOTAL TIME

SERVINGS10
Recipe Courtesy of Chef Allen Susser.
Ingredients
1/4 cup Butter
3/4 cup Sugar
2 Medium very ripe, soft mangos, peeled and pitted (1 1/2 mangos pureed and 1/2 mango diced, or 1 cup mango puree and 1/2 cup mango diced)
1 Egg, slightly beaten
1 tsp Pure Vanilla Extract
2 tbsp Lime Juice
1 1/2 cup All-Purpose Flour
1 1/2 tsp Baking Powder
1/2 tsp Baking Soda
1/2 tsp Ground Cinnamon
1 cup Chopped Walnuts
PREP TIME 20 minutes

COOK TIME40 minutes

TOTAL TIME

SERVINGS10
Recipe Courtesy of Chef Allen Susser.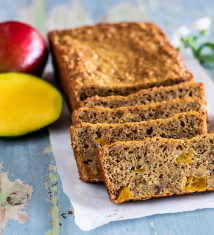 Instructions
To prepare batter, in a large mixing bowl cream the butter and sugar. Add the mango puree, egg, vanilla and lime juice.

In a separate large bowl, combine the flour, baking powder, baking soda and cinnamon. Add the mango mixture to the flour mixture, stirring until the dry ingredients are just moistened. Stir in the walnuts and diced mango.

To bake the mango bread, preheat the oven to 350°F. Coat a 9x5x3 inch pan with cooking spray. Pour the batter into the prepared loaf pan. Bake for 40 minutes, or until a toothpick inserted in the center comes out clean.

Cool in the pan for 10 minutes before removing from the loaf pan. Allow to cool for 1 hour on a rack before serving.